Pocono Raceway revved up the fans with tons of action at the Axalta "We Paint Winners" 400 NASCAR Race held June 3 - 5, 2016. I didn't make it to the Friday events, but there was plenty going on during that gorgeous day at the Tricky Triangle. Friday was practice for the Sprint Cup and xfinity Series, along with qualifying for the ARCA race that was held close to 6 p.m. After the race, the infield came alive with a block party bar and live music going till midnight.
If you are looking for a NASCAR experience but don't want to deal with the crowds and the traffic, then you must get to a Saturday event. The day was jam packed with gates opening at 8 a.m. Qualifying for the big Sunday race started at 9:15 a.m., followed by practice for the Sprint Cup Series at 11:30 a.m.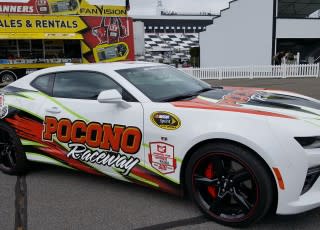 Pocono Raceway then held its inaugural Saturday NASCAR xfinity SERIES 250 Race and it was nothing short of great with all of the action of a Sunday race at a fraction of the time due to the number of laps they run. Unfortunately the Saturday race was stopped just after the halfway point due to weather, but we still got our money's worth and more!
Even though the weather became a factor for the race car drivers, it couldn't stop the excitement at the track. There was plenty of action at the Fan Fair. This is an area where you can shop for your favorite driver's memorabilia, all organized by driver. You could also experience the interactive display by Ford, get an autograph by a racing legend, this time around it was "The King" himself, Richard Petty, ride the Zip Lines, and more. A Pocono Medical Center Kid's Zone had bounce houses, face painting, and other activities to keep the kids happy. And better yet, kids 12 & under get free admission on Friday and Saturday to the track. Who could beat that?
Saturday's evening events were all on as scheduled as the weather cleared a bit, and that meant it was round two of the Infield Block Party complete with live music, and there were even fireworks to enjoy.
Sunday morning I was headed back to the track for more. The weather was a little less than desirable and they weren't actually able to race at all, but that didn't stop the other activities for those that attended. It was more of the same, minus the race action.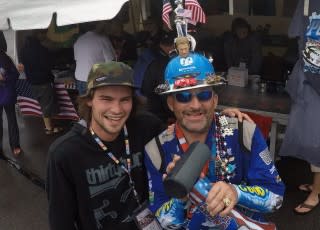 There were awesome food options from loaded nachos to fresh cut fries. And plenty of beverage choices, too. Or, you could have brought your own food and beverage in 12"x12" coolers to save a few bucks.
One of my favorites about being at the track has to be the people watching. Here's a picture of my son along with "Dale Man." Can you tell the amount of passion these fans have for their idols? Unfortunately when the race was run on Monday, Dale Jr. came in 2nd place... sorry "Dale Man."
Next stop for me? I've still yet to get to an IndyCar race. I have to complete the entire race culture. I challenge you to do the same!