As we get back into the swing of a new year, I'd like to take the opportunity to reflect on some of the things that made and make the holiday season great in Lehigh Valley.
5. Christkindlmarkt. Where else can you find such one-of-kind items that are so carefully crafted?
4. Lights in the Parkway. I know a little quirky, but still a great tradition that always seems to bring a smile to children and adults faces a like.
3. The Easton Peace Candle. At its core the values that the candle represents is what the Christmas season is all about peace and love. Thank you Easton for offering this much needed reminder.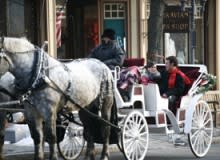 2. Bethlehem's Main Street. There is something magical about the quaint shops being decorated in holiday lights and garb. With horse drawn carriages and holiday smells in the air it definitely takes you back to a simpler time.
1.  Lehigh Valley Residents. Yes, without the wonderful people that call Lehigh Valley home the area just wouldn't be the same. With a friendly smile or a kind word, we really are what makes this place great.
So there it is, my little reflection in a nutshell. Here's to a healthy and prosperous New Year. May all your wishes come true.