America has always had a love affair with the road and the cars we drive. This love is year round, but every August, Lehigh Valley becomes home to two fantastic festivals devoted to our automotive hearts.
It starts off in early August with Das Awshct Fescht and the month ends with the Wheels of Time Jamboree.
The Wheels of Time Rod & Custom Jamboree has been held every year since 1978. It brings together some of the most beautiful hot rods and custom cars ever seen in one place. Thousands of hot rods and custom cars are registered and on display, while many more are just driven as transportation to the event.
Wheels of Time is one of the largest all-volunteer events in the nation, and each year approximately 20,000 spectators and participants attend the show.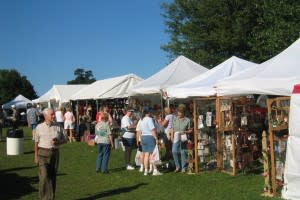 They come from all over because there's something for everyone. A flea market, arts and crafts, music, carnival rides and games, and entertainment for the kids.
It is family fun and a great way to end the summer, but first and foremost, it is all about the cars.
Hot rods are classic cards with large modified engines for speed. If you're a movie connoisseur think American Graffiti, and music aficionados think ZZ Top's music videos, you get the picture?
Although the festival is for rods and customs 1985 and older, it's the older cars that always bring the most focus and attention, such as the classic Ford T-buckets and 1930s Ford three-window coupe. But the truth of the matter is that we are all drawn to the cars of our youth.
We can appreciate older cars, but as with anything else, our love affairs with the automobile, is tied to the memories we have, and the cars we have them with.
Rediscover your passion of the great American love affair with the car at the Wheels of Time Rod & Custom Jamboree held every year the weekend before Labor Day and maybe, just maybe, you'll rediscover your youth.