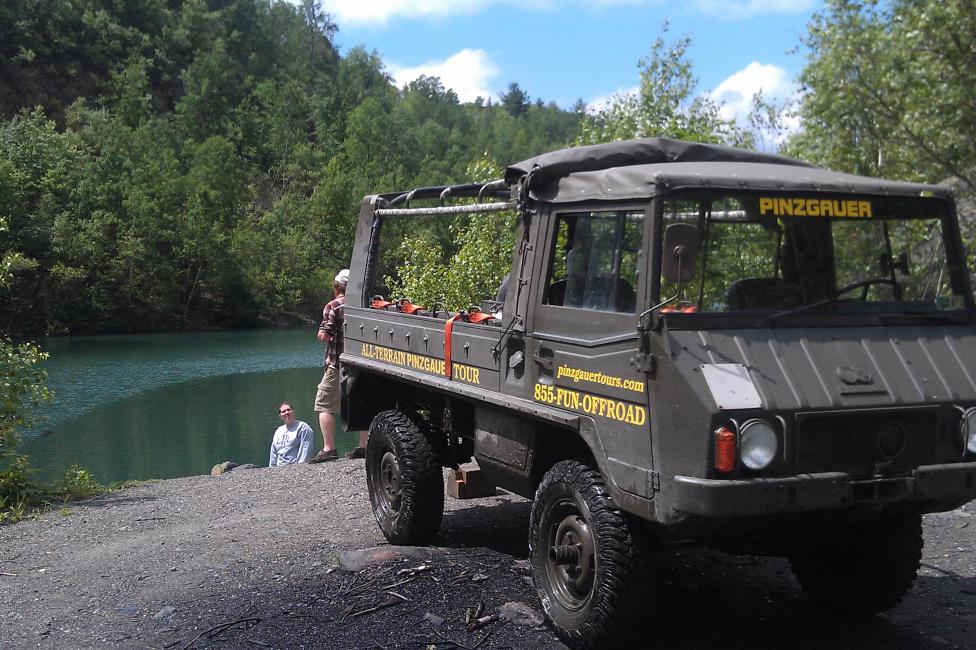 Over the past few years I have purchased several offers from Groupon for Lehigh Valley attractions. The majority of these deals have been for some kind of adventure, including a hot air balloon ride, indoor kart racing at Lehigh Valley Grand Prix and a whitewater rafting trip with Pocono Whitewater. All of these adventures have been a blast, but Saturday's All-Terrain Pinzgauer Tour was by far the most unique.
Saturday's adventure began when we arrived in Historic Jim Thorpe and spotted the Pinzgauer (a high-mobility, all-terrain military vehicle). After getting briefed by Scott and Justin, it was time for Erin and I to begin our 3 hour off-road adventure. From Jim Thorpe we headed about 20 minutes north to a quarry called Hades Hollow.
Upon arriving at the quarry, Justin (our driver) gave us the history of the land and prepared us for our adventure at Hades Hollow. Our off-road journey included rides along rugged trails and through a variety of obstacles. The Pinzgauer drove over boulders, lakes and trees with ease. This made for an exhilarating ride.
Following rides through Rattlesnake Bluff and Bear Run, we stopped at Blue Lake to take in a beautiful view. The landscape gave us an opportunity to appreciate the trek that we just made. This was far from the end of our journey, as we still had to visit the much anticipated Pinzgauer Playground. The Playground was definitely the highlight of our adventure as it pushed our vehicle to the limit. Our adrenaline raced as we completed this obstacle.
The Pinzgauer Tour was a blast and I highly recommend it. What is your favorite Lehigh Valley adventure?