First off, what an experience! Having spent a good portion of the last two weeks in attendance at the 2014 FIFA World Cup Soccerfest & Viewing Party, I can say that when ESPN showed live look-ins, during the USA vs. Ghana game, from Bethlehem, Pa. along with Chicago and New York, we belonged.
In fact, had they been there Sunday night, during the USA draw with Portugal, they would have seen an even bigger and louder crowd!
And the event isn't over yet! In fact, it won't be over until a World Cup Champion is crowned on July 13th. Although the large screen on the Air Products Town Square is going away, all of the remaining games will be shown on the Levitt Pavilion screen and the PBS39 screen. This is doubly important to know because of the USA's next match and their future in the tournament.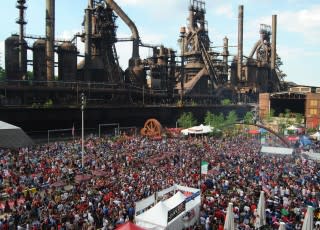 ALL EYES ON THURSDAY! Yes, with the draw against Portugal, the USA and Germany can both advance with a draw against each other, but that would make the USA the second seed to come out of the group. As the second seed, that means they'd be likely to face a tough Belgium side in the first game of the knockout round.
So, the USA is really looking to beat Germany and with the way they played on Sunday night, it looks like something the team is up for. If however, the USA falls to Germany, it will depend on the outcome of the Portugal vs. Ghana game as to the other team to come out of the group. If the USA loses, it could very well come down to goal differential between them and the winner of Portugal vs. Ghana.
All of this is just me hashing out the possibilities. I'm not going to speculate on the probabilities, but I will tell you this. Last Monday and this past Sunday were rocking parties and I doubt that the noon start on Thursday vs. Germany will stop many fans from coming out to support the USA!
With fans like these: (Crowd reaction Jermaine Jones' equalizer vs. Portugal)
You can't do anything but believe!
Here's the reaction to the USA's second goal by Clint Dempsey vs. Portugal:
I! I believe! I believe that! I believe that we! I believe that we will! I believe that we will win! I believe that we will win! I believe that we will win! I believe that we will win! I believe that we will win!