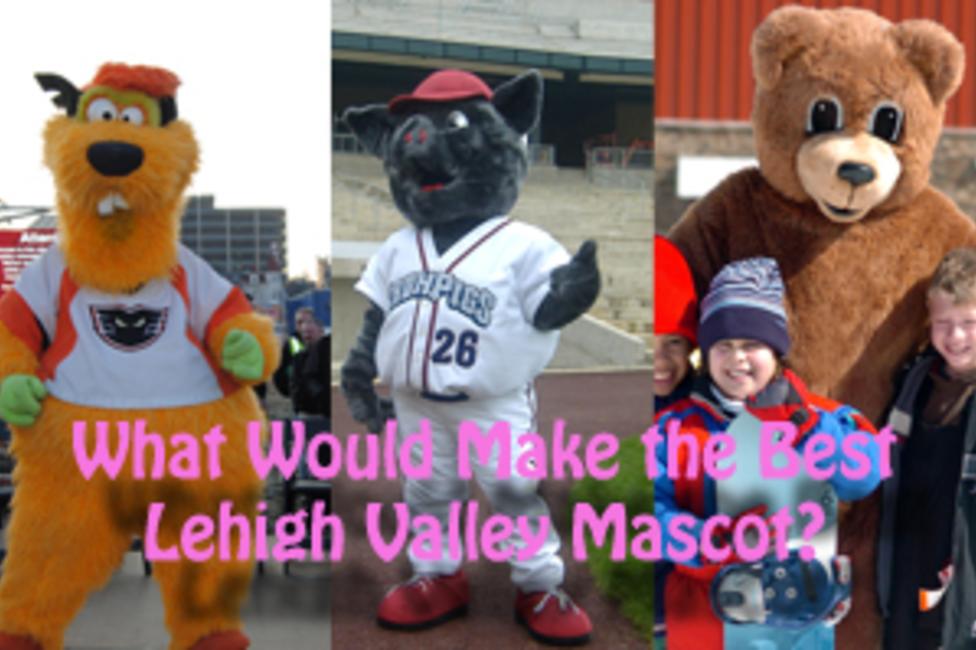 Lehigh Valley has some adorable mascots already.
The Lehigh Valley IronPigs have Ferrous and Fefe.
JustBorn has Mike and Ike and a bunch of PEEPS.
Yocco's has the Hot Dog King.
Bear Creek Mountain Resort has their big fuzzy bear.
And, now the Lehigh Valley Phantoms ice hockey team has Dax, a fun looking beaver.
But, what about Lehigh Valley at large? What would be an appropriate, or even just the most fun, mascot that could encapsulate the whole area?
We're not 100 percent sure, but we did come up with a few, let us know your thoughts.
Historical

1. Steel Worker or Steel Stacks: This is an immediately recognizable and appropriate type of mascot. Not only is it ingrained in the history of the area, but, everyone would want to buy a fun steel worker's hat!

2. Moravians: They were one of the first groups in Lehigh Valley and their legacy is still felt throughout many local communities. Their 18th Century garb may not elicit excitement,  but it is pretty unique.

3. Liberty Bell:  Sure, Philadelphia is home to this national treasure, but it was kept safe in Allentown during the Revolutionary War.

Animal

1. A Hawk: Hawk Mountain is one of the most beautiful places in the state, let alone Lehigh Valley. So, a soaring Hawk, akin to Lehigh University's mascot, seems like it could be a good bet.

2. Geese: Anyone who has ever taken a run by the Lehigh River on the canal tow path in Bethlehem, or visited any local park with a body of water, knows that geese really like Lehigh Valley, too. A lot.

3. A Squirrel: Most local college students can attest to the fearless squirrels on their respective campuses. These furry creatures could make for a fun mascot.

4. Shad: Easton's annual Shad Fest event brings people from all over the area to the city's beautiful waterfront at the confluence of the Lehigh and Delaware rivers. This fish could be a front-runner!

Events

1. A Big Tent: With a "fest" themed event held seemingly every weekend, tents that house good food and music seem to be up year-round.

2. A Guitar: Martin Guitar calls Nazareth home and with the new Artsquest Center, Musikfest and MayFair, Lehigh Valley is widely known for its musical events.

3. A Guy in a Kilt: Celtic Classic, held in Bethlehem every September, has become synonymous with people wearing their kilts proudly.
These are just a few ideas that we had in mind and we're sure there are many others.
At the end of the day, however, Lehigh Valley's diversity and strong heritage encompasses so many different iconic figures and symbols that deciding on one may just be too hard.
What do you think?