Having a town in Lehigh Valley which is affectionately referred to as the Christmas City, it's safe to say Bethlehem is absolutely the place to be during the holidays. We reached out our fine partner, Historic Bethlehem Museums & Sites, and their Marketing Coordinator, Morgan Harris for a look at a few things you don't want to miss in the Christmas City during this holiday season.
So, as the nights fall faster, the frost begins to crystallize on the windows, the air begins to bite, and the clouds groan with the weight of unfallen snow, Discover Lehigh Valley along with Historic Bethlehem Museums & Sites invite you out to get out of the house and onto the luminous streets of The National Historic Landmark District of Historic Moravian Bethlehem. You are sure to uncover another side of winter, one infused with history and holiday magic!
Christmas City Stroll
Explore the streets of Bethlehem on foot as you learn about the city's story, starting with its beginning in 1741, from a certified guide in period dress. Along this candle-lit walk, you'll also see Bethlehem's striking Victorian and colonial architecture, two National Historic Landmarks; the 1741 Gemeinhaus and the 1762 Waterworks, and the renowned Bethlehem Star.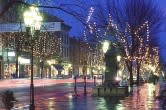 Bethlehem by Night Bus Tour
Traverse this National Historic Landmark District at night by way of a guided bus tour. Travel with a guide in 18th century Moravian dress from the streets of downtown Bethlehem, glittering with a myriad of twinkling lights, to the dazzling Christmas star, solemnly resting atop South Mountain. On the way, learn about Historic Bethlehem's many holiday traditions, past and present.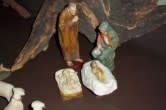 Holiday Putz Trail
Journey along a trail of carefully selected figurines, animals, and buildings that depict various scenes of the Nativity story. Experience this Moravian Christmas tradition with displays spread across four different historic sites; the 1741 Gemeinhaus, the Single Sisters' House, the 1810 Goundie House, and the Central Moravian Church Christmas Putz.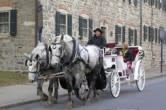 Horse-Drawn Carriage Rides
Listen to the rhythmic beating of hooves as you discover the stunning sights that define the Christmas City in a serene horse-drawn carriage ride. Cozy up to friends, family, or loved ones while you partake in this holiday tradition loved by locals and guests alike.
Trees of Many Colors
Observe beautifully decorated trees featuring themed colors throughout our historic sites. Carefully chosen ornamental themes are prepared and applied by volunteers from the Bethlehem Garden Club. Enjoy our annual tree display as part of your family's holiday tradition, or start a new tradition in 2015! Visit this exhibition at Kemerer Museum, Moravian Museum of Bethlehem, 1810 Goundie House, and the Luckenbach Mill.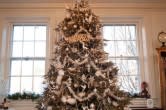 100 Years of Gift Giving
Unwrap this holiday exhibition that's fun for all ages. Ribbons, bows, and wrapping paper; the 100 Years of Gift Giving exhibition has it all. Uncover Bethlehem's cherished memories of gift giving throughout the years and discover gifting practices that you can adopt this holiday season. Visit the 100 Years of Gift Giving exhibition at Kemerer Museum of Decoration Arts.
As you enjoy the rest of the holiday season in the warm company of friends and family, be sure to check out what else Historic Bethlehem has in store by visiting their website.