Lehigh Valley is always proud to celebrate all things Irish. Celtic Classic may take place in the fall, but there is no shortage of St. Patrick's-related celebrations over the next two weeks!
The Downtown Bethlehem Association kicked off the celebration this week with seven days worth of specials, dubbed "Beth-lum Go Bragh."  Many of the downtown retailers and restaurants are offering special deals and discounts to celebrate all things green. One of our favorites, McCarthy's Restaurant will be serving up traditional Irish foods, accompanied by live music.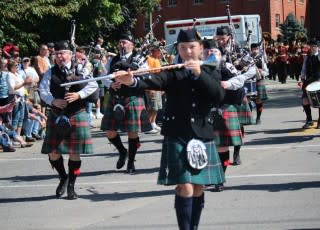 If you're looking to invest in a traditional kilt for the celebrations, stop by Donegal Square, your go-to location for all things Irish. Once you've got your kilt set to go, try your hand (well, your legs) in their Best Legs in a Kilt contest. This annual event takes place outside the shop on Saturday, March 15 at 11 a.m. before the step-off of the Parade of Shamrocks.
Once you've checked out all the kilt action, be sure to grab a viewing spot for the 4th Annual Celtic Classic Parade of Shamrocks. Beginning at 1 p.m., the parade will step off at 13th Ave. & Broad Street. From there, it will make its way east to Main Street where it will continue south to the Hill to Hill Bridge. Be sure to stop by the Beer Truck to fill up on all your Irish favorites! For the full lineup of events, be sure to check out the Celtic Classic schedule.
Save some energy for the West End Pub Crawl on Saturday evening, sponsored by the West End Alliance and the Allentown St. Patrick's Parade. Ten participating bars will be offering specials for the occasion beginning at 6:30 p.m. Be sure to register so you get your t-shirt!
Tilted Kilt Pub & Eatery of Lehigh Valley  in Allentown is hosting a St. Patrick's Weekend complete with kegs & eggs on March 15 & 16, as well as an outdoor music concert.
The celebrations don't come to a close this weekend. On Sunday, March 23, grab a viewing spot for the 57th Annual St. Patrick's Day Parade in Allentown. The event will be preceded by the West End St. Pat's 5k Race. The parade steps off at 1:30 p.m. at the Allentown Fairgrounds and will follow the route depicted here. Local bars will have specials available, and there will be food vendors throughout the parade route.
The weather forecast looks like it will be in our favor for both weekends, so don your green attire and celebrate the all things Irish!
[gallery ids="18662,18663,18664,18665,18666,18667,18668"]