A few years back, Staples office supply stores used the famous holiday song clip "...it's the most wonderful time of the year..." promoting back to school season. I thought that was a clever marketing ploy, but it's just how I feel this time every year.
Why, you might ask? It is the start of free outdoor concert season in Lehigh Valley! Once again I can throw my long retired soccer mom chair in the trunk and head on over to live performances at the Levitt Pavilion on the SteelStacks campus in Bethlehem.
Our Levitt Pavilion opened in July of 2011 but I knew we weren't the first. I decided to dig a little deeper to see how this fabulous space came about. The history is a classic example of making it big and giving back to communities.
Mortimer and Mimi Levitt started their foundation back in 1963 with the goal to promote arts, culture and education. Mortimer, who grew up in Brooklyn, tagged along with his father as he worked in a park in Coney Island as a street vendor. He couldn't afford tickets so he listened to concerts from outside the gates. Lucky for us, the Levitt family used their self-made millions to assure free concerts for residents and visitors of ten cities across the country, including Bethlehem.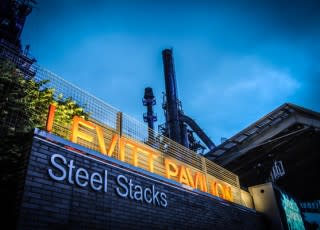 SteelStack's pavilion hosts at least 50 concerts every season which allows for a wide variety of musical acts to perform over the course of the summer. They also host a slew of family friendly movies for free. I wish they were around when my son was little.
All the performers need to be paid and of course the movies need to be "rented" so volunteers circulate with buckets accepting donations to keep this all going. I always make sure I have a few bucks in cash so I can help support Mortimer's dream.
The best part for me is sitting on the lawn, facing Bethlehem Steel's blast furnaces and seeing the reaction of the performers as the sun fades and the colored lights hauntingly illuminate the structures that are responsible for building so much of America.
Unfortunately, Mortimer passed away years before out Levitt Pavilion was built. Otherwise I'm quite sure our pavilion would have been his favorite. Luckily, we have the good folks at ArtsQuest to keep this free concert venue running.
Check out their schedule and start filling in the dates on your calendar. You, and your wallet will be glad you did!