There are only a few days left this month to enter our Ultimate Acoustic Experience giveaway, which will send home one lucky winner with their very own Martin Guitar. So,  I figured that now is as good a time as any to feature one of my favorite Lehigh Valley attractions, the C.F. Martin & Co.®  factory and museum.
I recently went on my umpteenth tour of Martin and it's still as fresh as the first.
Established in 1833, C.F. Martin & Co.®  first set up shop in New York City before relocating to Nazareth in 1838. Nestled snugly within a quaint, suburban sprawl, the factory cuts an impressive figure amongst the residential homes nearby. The walkway that leads to the Visitor's Center is emblazoned with a striking design in the likeness of a guitar headstock, beckoning all inside.
While I waited for the rest of my tour group to file in, I busied myself with the "Play Me Wall, where an assortment of Martin guitars hang waiting for eager hands to grab and strum and pluck their sonorous strings. Opposite this wall is the center's album and CD display, which proudly boasts the cover art of countless records featuring songs recorded with help from the Martin arsenal.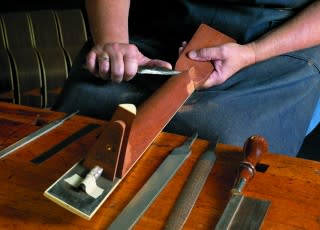 Finally, my tour guide arrived and gathered the group together, and off we went. The tour lasted approximately one hour, in which time we were given a very in-depth, behind-the-scenes look at the company's elaborate and thorough  process of guitar production and distribution.  This includes the various types of wood and other materials used to construct the physical make up of the guitar;  the assembly, inspection and testing, and finally the packaging and shipment. For musicians like me, bearing witness to such a revelatory process was like peaking behind the curtain to gaze upon Oz.
At the end of the tour, we were led through the gift shop and each participant received a commemorative Martin souvenir, which was made from the excess wood removed for the sound holes of the company's guitars.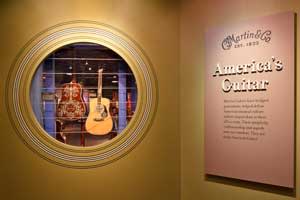 After the tour, I took a walk through the Martin Guitar Museum, which documents in vivid detail the history of the company and its impact on popular culture, through historical artifacts, musician testimonials and anecdotes, and more than 200 vintage guitars and other instruments.
That so much rich and culturally important musical history  is intrinsically tied to the Lehigh Valley area is really something special, and as a musician myself, I feel deep pride in having a place like C. F. Martin & Co.®  so close to home.
If you haven't ever had the chance to visit, call ahead or just walk in to reserve a tour today. Your eyes and ears will not be disappointed.