The days of 2014 are fast dwindling down to zero as 2015 approaches. Some of you are looking forward to the new year and others aren't quite ready to say goodbye to 2014.
No matter the camp you fall into, there is no stopping time, we can't make 2014 go on forever and we can't make 2015 come any sooner. So, spend it with family, spend it having fun, spend it like you want to.
In Lehigh Valley, spread throughout our cities and towns, rituals old and new abound for locals and visitors alike.
In Allentown there will be music and a fireworks display over the Soldiers & Sailors Monument; Bethlehem will be all Peeps during PEEPS Fest, including the dropping of the PEEP;  Easton will be having a Luau dance party thanks to Crayola, and that's only some of the fun.
Discover Lehigh Valley has put together some New Year's Eve deals, for those of you who don't want to go broke ringing in the New Year, but it also gives you the chance to change things up.
But what if you're the type that doesn't want to go out on the town?
Well, there are plenty of restaurants and a whole lot of them have TVs, which happens to be important to myself and a few others I know, who happen to enjoy Bowl Season, such as it is.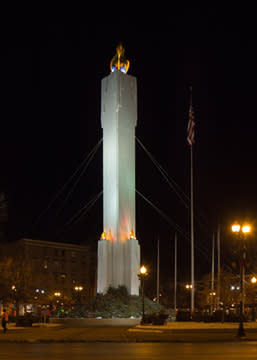 What will you be doing New Year's?
The Red Elvises' New Year's Eve Spectacular at ArtsQuest Center at Steel Stacks? Dinner at Blue? A dive at Dutch Springs? A murder mystery at Harry Packer Mansion? Appetizers at Torre? A game at Lehigh Valley Laser Tag? Drinks at Melt? Chris Tucker at Sands Bethlehem Event Center? A short staycation at one of our many area hotels or inns?
The options are yours to choose from. Stay tuned to our twitter and facebook accounts, as we'll pass on special events and deals as we come by them!
Happy Holidays and a healthy New Year to all of you!