If you're looking to learn more about top-of-the line beers, you don't have to travel very far.
We're lucky to have some awesome breweries in Lehigh Valley that offer great brewery tours- often at little to no cost! I recently stopped by the Weyerbacher Brewing Company, located in Easton, PA, to learn a little more about how their beer is made- getting to sample some beers was an added bonus!
The brewery is tucked back off of Line St., which is very accessible from I-78. The Visitors Center is open Monday – Saturday 12 p.m. – 7 p.m., but you'll have to stop by on a Friday or Saturday if you'd like to get the full tour.
Tours are free and run Fridays at 5:30 p.m. and Saturdays at 1 p.m., 3 p.m. and 5 p.m. Allow about 30-45 minutes for each tour.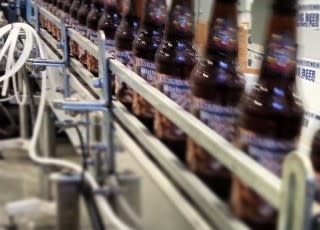 We arrived on Saturday afternoon for the 3 p.m. tour and it was a packed house! IDs are checked at the door as soon as you enter, and you are given a wristband for over 21 years of age. After that, you're set to go! We made our way over to the tasting bar and sampled a few selections before the tour group was called. When 3 p.m. rolled around, everyone was invited to get a 'tour-sized sample' (a slightly larger pour than the regular tasting) and we gathered as a group.
Our tour guide was very informative, and she did a great job of keeping everyone in the group engaged throughout the tour.
Our first stop was to see the different pieces of equipment used in the brewing process including mash barrels, boiling kettles, and whirlpools.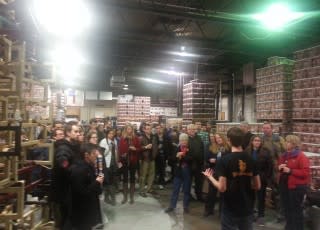 We saw the different pipe lines that transport water into the barrels, and learned that Weyerbacher will always be located in Easton because they utilize Easton city water; if they were to move somewhere else, they'd have to have the exact same balance in the water or the beer wouldn't taste the same!
From there, we moved over to the area where fermentation occurs and learned how the temperature of the beer is maintained, as well as how the carbonation is reintroduced to the beer as the process is nearing completion.
Our tour guide also showed us where the various filling locations take place including kegs (which are all filled by hand!) and the conveyor belt that sorts bottles, labels, and boxes for cases of beers.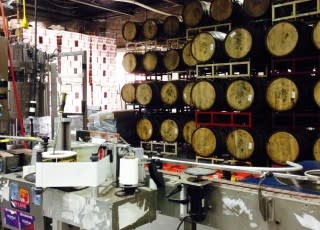 To wrap up our tour, we were all taught the way correct way to drink a beer. Did you know that you aren't supposed to drink it straight from the bottle? A beer should be poured into a glass before enjoying so that you can experience the aroma as a part of the tasting process.
After our tour was complete, we ventured back over to their tasting bar to sample some more brews.
The bar offers every in-stock beer for sampling, but you are not able to purchase a full pint as the Visitors Center is not a licensed pub. On the wall, there is a whiteboard which displays all the beers available for tasting and a suggested sampling order. Be sure to drink responsibly!
Before you head home, be sure to pick up some bottles to take home with you!
You can choose from 12 oz. bottles, 750 ml bottles, growlers, or even kegs! Mix and match your favorites to build a custom six-pack, or just pick a few single bottles to take home. I made sure to grab a few bottles of Bootes, a beer in the Select Series that can only be purchased in bottles from the Visitors Center, and makes a very limited appearance in local restaurants and bars. You can also purchase Weyerbacher shirts, hats, glassware and more at the Visitors Center!
[gallery ids="18154,18153,18157,18155,18160,18156,18161,18159,18158"]