I am always amazed at the difference between a picture I take and those by my professional photographer friends. Getting the right shot is really a talent, even with all the sophisticated digital equipment available today.
If you really want to appreciate original photos of fine art quality you must check out "Weston's Women: Edward Weston and Cycles of Influence" at the Allentown Art Museum of the Lehigh Valley. which runs through May 17.
When I first heard the title of the exhibit and saw the image used in the brochures, "Nude, 1936" I thought "Weston's Women" just referred to the subject matter, but that is only half the significance. Throughout his seventy some years on this earth many women played important roles in his life, and he in theirs.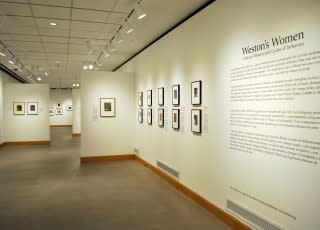 I found the descriptions and back stories of the over 60 works in the gallery to be fascinating and was compelled to read every word. I even went home and googled Weston to learn more about the man and "his women".
I wish I had the chance to meet Edward Weston in person but he died from Parkinson's disease before I was born. I would love to know, first hand, why so many women were drawn to him. Was it his self-confidence, his charisma, or just his shear genius with the camera? I'll have to read his published "Daybooks" (his diary) to find out more.
Already an accomplished and published photographer, Edward was only 20 when he moved from his birthplace in Illinois to California at the urging of his older sister Mary. Three years later he married her best friend, Flora, who was seven years his senior. They raised four boys, but from what I understand their marriage was one of convenience rather than passion.
Weston found that passion with other women throughout his life such as fellow photographer Margrethe Mather. It seems she was the first of many women who influenced and inspired Edward becoming his assistants, models and lovers. The intimacy shows in his works, especially in his awe-inspiring nudes. Margrethe was followed by Tina Modotti, Sonya Noskowiak and Charis Wilson. His future daughter-in-law Dody worked with him in later years when Parkinson's was taking its toll.
This exhibit displays 29 works of Weston, ten from Dody, eight from Sonya, six from Imogen Cunningham and one from Margrethe all of which were shot, developed and many signed and dated by the artists. I find them all amazing given the fact that they were created with very large cameras, plates, negatives and primitive developing techniques.
Many thanks to Judith G. Hockberg and Michael P. Mattis for sharing their collection with the world and of course to the Allentown Art Museum for once again bringing this and other fine art exhibits to Lehigh Valley.