The only song ever written that rhymes with my wife's maiden name, at least that we know of, is Weezer's "My Name is Jonas." After all, very little rhymes with Bagdonas.
When the quirky alt-rockers opened their one hour, 15-minute set with the lead track from 1994's so-called "Blue Album," we both knew we were in for a treat.
Weezer - Rivers Cuomo (guitar, vocals), Brian Bell (guitar, backup vocals), Scott Shriner (bass, backup vocals), and Patrick Wilson (drums) - delivered hit after hit after hit on Saturday, Nov. 23, inside the Sands Bethlehem Event Center to a packed house. Picture your perfect Spotify playlist live, and that's essentially what Weezer delivered.
That doesn't mean that at least one older concertgoer was unprepared and watching "El Scorcho" while waiting in line. And while we're talking about the line, I spotted at least 20 people breaking the cardinal concert rule set forth in the 1994 comedy "PCU." Come on, people. Don't be that guy.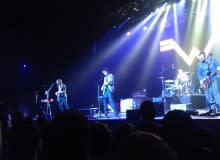 Cuomo, performing with an iconic seafoam green guitar and wearing a gray cardigan sweater with charcoal gray pants and a navy and gray pinstripe button-down shirt, was hardly the vision of rock stardom that the group has come to epitomise over the last two decades. But the generation-spanning crowd, including one under-10-year-old girl sporting a homemade Weezer T-shirt, wasn't in attendance for a show by stereotypical rock gods. They knew better from the group that proudly sang "I'ma do that thing that I want to do / I ain't got a thing to prove to you" in "Pork and Beans" from 2008's "Red Album" near the end of their set.
Cuomo spoke little, letting the music do the talking. "Wassup, my home chickens. We're Weezer," he squeaked after plowing through "My Name is Jonas," "Hash Pipe," and "El Scorcho" at the opening of the set. "Everybody's here to party and have a good time. Everybody's here to pick up the little scraps of culture thrown here and there… and reassembled into a very impressive machine known as alternative rock," he added three songs later.
Impressive indeed. The entire evening was like a drunken, sweaty karaoke fest with the closest friends you've never met before, and that's meant to be interpreted in the nicest way possible.
Shriner took lead vocals on "Dope Nose" from 2002's "Maladroit" before the band spun into "Surf Wax America." Cuomo then delivered an impromptu ballad of sorts for Bethlehem, telling the crowd that if he were to be stranded anywhere he'd want "these guys (referencing the band) and all of you guys" to be trapped with him on an "Island in the Sun," the slow, melodic hit from 2001's "Green Album."
Bell took over on vocals for the "Maladroit" hit "Keep Fishin'," the song perhaps best recalled for its Muppets-infused music video.
"We're so glad to be out here on the road doing what we love," Cuomo confessed before describing the four chords that make up "Say It Ain't So," the song he said could have been composed by a "bunch of monkeys" slapping on a guitar for long enough that, instead, he did in 1992 when the band first began practicing.
After closing the set with arguably one of their most notable hits, "Buddy Holly," Weezer returned to deliver an encore including "Memories" from 2010's "Hurley" and "Undone - The Sweater Song," which concluded with an all-band member drum solo and certainly finished the night on a high note.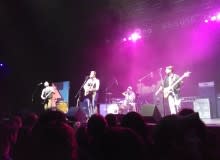 Weezer was preceded by Lehigh Valley natives Harkland - Paulie Knakk (vocals, rhythm guitar), Matt Runkle, (lead guitar, backup vocals), Kurt Geyer (bass), and Luke Wolk (percussion). The band carried a sound reminiscent of Matchbox Twenty and a stage presence and wardrobe more closely resembling Mumford & Sons.
While the obviously tight-knit and well-rehearsed group powered through five songs that could have used an adjusted mix to highlight Runkle's talents, they failed to introduce all but one song. The set closing "Heart of Stone," a slow and brooding tune that felt like at least two different songs rolled into one and would have been better placed in the middle of the set, steadily lost the crowd as it progressed to the more deliberately placed drum solo featuring Knakk and Wolk. According to their Facebook page, the set also included "Soloist," "Talking to Walls," "Struggle," and "Rush," in that order.
Weezer setlist:
"My Name Is Jonas"
"Hash Pipe"
"El Scorcho"
"Troublemaker"
"Photograph"
"Perfect Situation"
"Dope Nose"
"Surf Wax America"
"Island in the Sun"
"The Good Life"
"Beverly Hills"
"Keep Fishin'"
"Say It Ain't So"
"(If You're Wondering If I Want You To) I Want You To"
"Pork and Beans"
"Buddy Holly"
Encore:
"Memories"
"Undone - The Sweater Song"
Christopher J. Hughes is a graphic designer from Scranton, Pa., with work featured at peterparkerpa.com. He is the manager of web content and news media for Lackawanna College.