During National Tourism Week which was celebrated May 2 - 10, Discover Lehigh Valley ran a promotion called "If You Build It, They Will Come." The promotion asked Lehigh Valley fans to tell us, in their opinion, what makes Lehigh Valley a wonderful place.
We asked them if they were suggesting to a visitor, whether a friend, family member, or stranger, what would make their list as some of the best things to do in Lehigh Valley.
They pieced together their perfect Lehigh Valley itinerary including three attractions, three restaurants, and one event. Over the course of the ten-day promotion, we had over a hundred entries of Lehigh Valley fans wanted to share their favorite locations. Here are some of our favorite entries, including the three winners.
Andrew K. (winner)
Quite simply, what makes Lehigh Valley so great is that it is a microcosm of America in about 700 square miles. You have mountains, rivers, farmland, small towns, vibrant cities and booming suburbs all within a very small area.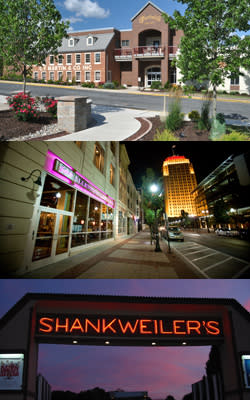 I would begin in Easton, with one of the greatest family-friendly tourist attractions around, the Crayola Experience. Then, if you're visiting during a weekday, I would head on up to Nazareth to visit the Martin Guitar Factory Tour. Watching these beautiful pieces of musical artwork being handcrafted is fascinating enough, but the little museum is just as cool! On your way back towards Allentown, stop in A Ca Mia Italian Restaurant in adorable Walnutport for lunch. The former owner of Paolo's Italian Restaurant in Northampton has honestly one of the best Italian restaurants around anywhere, not just the Lehigh Valley.
If you crave a nice craft beer head to suddenly booming downtown Allentown and visit Fegley's Brew Works. If you're visiting in the warmer months you can take in a movie at Shankweiler's Drive-In in Orefield. This place has great food, a wonderful family atmosphere and is known as the oldest drive-in theater in the country! Finally, if you're visiting in August, visit the Das Awkscht Fest in cute Macungie. One of the biggest, and coolest antique car shows and fairs around. On your way back home, or to your hotel, grab a bite at Yocco's Hot Dogs, a Lehigh Valley institution.
Emilie J. (winner)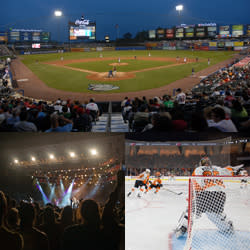 Lehigh Valley is full of diverse attractions, restaurants and events. Allentown, Bethlehem, and Easton all offer a different feel, whether it's a newly revitalized downtown like Allentown's, or the old charm of historic Bethlehem. Local sports are a big attraction for my friends and me. With Coca-Cola Park for the spring and summer and the Phantoms games at the PPL Center in fall and winter, there's always something to do.
Also, the restaurants across Lehigh Valley are great, and there are new restaurants popping up all over the place like the newly opened Torre. Musikfest is a can't miss event in summer with a great music lineup and fun packed activities for all.
Kelly K. (winner)
All the attractions I chose are great for dates or family outings.
Becky's Drive In for a night under the stars offers two screens of double features to choose from along with all kinds of yummy concessions, extremely friendly and welcoming staff and always clean and well-maintained facilities. Make sure to get there early for playground time, fire engine rides, costumed characters, bounce house, and pony rides, they feature Dusk 'til Dawn marathons, fireworks on the Annual Hollinshead celebration, Trunk or Treat for Halloween, annual car show, and Dream Come True benefit, plus they're pet-friendly.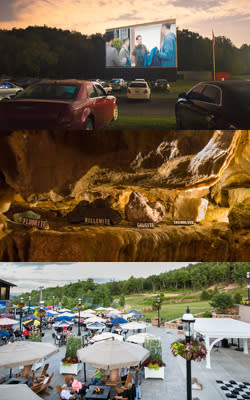 At a Lehigh Valley IronPigs game you'll never hear, "I'm bored" from the kids. Offering fan-friendly entertainment, yummy food, clean and well-maintained facilities, plus fireworks on Friday nights this is the place to be. Don't forget live music before the game and a kid's play area. Each game is more like an event!
Lost River Caverns features an underground river a day filled with educational benefits plus it's beautiful and with constant 52-degrees it's a great activity for a hot day.
Looking for fresh-made Hungarian food? Then Paprika's is your choice. With owners from Hungary you won't find a more authentic Hungarian meal at a very reasonable price. Plus their portions are huge. I recommend packing up some of your meal to leave room for palacsinta, yummy Hungarian crepes!
Perhaps Italian is more your flavor. A Ca Mia Italian Restaurant offers fresh, homemade pasta that is made daily. The chef is the owner and takes great pride in his menu and cooking. Everything on the menu is simply amazing.
Blue Mountain's Slopeside Pub and Grill features a fantastic informal outdoor dining environment with a great menu that is reasonable priced. Plus for those chilly summer nights they have a bonfire to relax around with a few after-dinner drinks.
When it comes to an event, Musikfest is it. With so much to see and do and lots of FREE great music it shouldn't be missed.
Lynn O.
As a two-year transplant to Lehigh Valley, my first couple of months I felt like a tourist, visiting new places each weekend and figuring out the area I now live in and call home. My selections are truly some of my favorite places to go in Lehigh Valley (besides all the breweries), and I'm still discovering this wonderful valley. Here's my perfect itinerary.
Start in downtown Easton for the oldest, continuous, open-air farmers' market in the country, the Easton Farmer's Market. The selection is second to none, and the community feeling on a Saturday morning in the late spring to middle fall is the best feeling in the world. Load up on fresh vegetables, breads, coffee, and don't forget the Two Dudes breakfast sandwiches!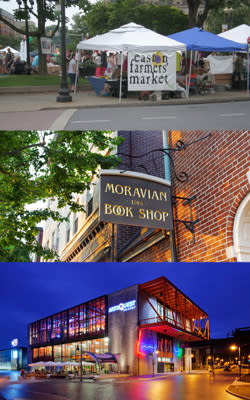 Enjoy the array of different shops in the downtown Easton. Mercantile Home offers different home decorations that will leave you wanting more, and you can't go wrong with Just Around the Corner's offerings either. Saturday mornings are the best time in Easton.
While in Easton, remember to stop at Two Rivers Brewing Co. for their pulled pork sandwich, a BLTA sandwich, or a nice Bacon Chopped Salad. Wash it down with a great offering of beer, made locally from Weyerbacher, Funks, HiJinx, Fegley's Brew Works, or obviously Two Rivers.
Looking to explore another Main Street on a weekend? Don't miss Bethlehem's always bustling Main St. Discover all the offerings the wonderful shops along Main St. offer including Celtic wares, a variety of rubber ducks, jewelry, and so much more. Between the Moravian Bookstore and Seasons, there are so many different places to check out. Each time I'm on Main Street, I find another new store that I end up loving.
Be sure to end your afternoon on Main Street with dinner at Apollo Grill, which is right around the corner. Their food is always good, no matter the time of day or season. Then head over to ArtsQuest™ and SteelStacks™ complex to take in the giant SteelStacks. Even if there is nothing going on (which isn't very often) just walking the campus viewing the buildings and discovering the grounds is amazing, and worth the trip.
Looking for an amazing event? Be certain to come back to Easton for Easton Heritage Day, which offers a peek into 1776, and the making of the United States of America. There is music, activities, and food for everyone. This is Easton's own Independence Day celebration. Do not miss the reading of the Declaration of the Independence at noon in Centre Square. Need a quick rest? Stop by Porters' Pub for a quick bite and an awesome list of craft beers to recharge for the night's festivities down at Riverside Park. Don't forget to stick around for the fireworks.
Vanessa P.
The Mid-Twenties Crisis Averted List
ArtsQuest™ Center at SteelStacks™ - As you get your life and finances together in your mid-20s, you still need entertainment. This venue is gorgeous, unique, and offers excellent ticket prices (the best prices in the area.).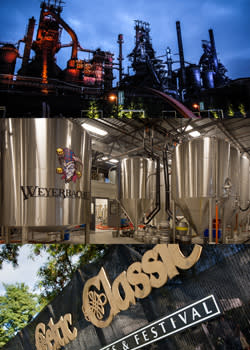 Coca-Cola Park home of the Lehigh Valley IronPigs Game - You need some excitement in your mid-20s, get out to a game! Plus, you'll be immersed in a family-friendly environment if you already have a pack.
Weyerbacher Brewing Company - Drinking has turned into a relaxation event more than a party. You gain your beer snob status once you hit 25. Check out Weyerbacher for pints of your favorite brews and a tour, and the staff is so fun.
The Bookstore Speakeasy - If you want great food and a noteworthy experience this place is it. Travel back in time to prohibition and sneak into a speakeasy for excellent food and spirits.
The Mint - This is a novel place where you can find comfort foods catering to adults. Try the lobster grilled cheese or truffle mac & cheese. It is also in an old bank in which they incorporated the bank theme delicately throughout the restaurant.
Social Still - Locally distilled spirits. Enough said!
Celtic Classic- This is one of the best festivals the area has to offer. More low key than Musikfest the event caters to local and you will see even see males rocking kilts as the town promotes the Celtic culture.
Adam C.
Only three attractions, really? The three I chose were based on the different aspects of history they exemplify. The Shelter House demonstrates the time when the area was inhabited and conflicts in the area could have been with the British or Native Americans and how it was probably a safe haven and shelter for early travelers.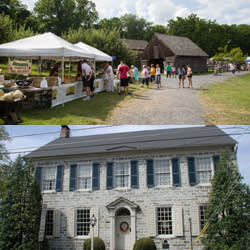 At Troxell-Steckel House, visitors can experience 100 years of Pennsylvania-German history, explore farm implements and craft tools, all showing how farmers and villagers interacted. It gives a fascinating glimpse of the area's farming history.
Lost River Caverns offers an abundance of knowledge and passion distributed by their tour guides. I had visited several other caves in Pennsylvania, but this was a more memorable visit because of the guides.
My can't miss event is Blueberry Festival. It was just good old fashion fun. Touring Burnside Plantation was a great way to learn more about the area's history.
The restaurants say it all. Lehigh Valley is known for its diners and Yocco's. It is a regional institution.
Brandi H.
Sands® Bethlehem is an awesome place to visit with many restaurants including three by Emeril Lagasse and great shopping at The Outlets at Sands® Bethlehem featuring many different stores, and of course the fun of gambling.
The Lehigh Valley Zoo is a great family place to take children to see many different animals and learn about each one. Dorney Park & Wildwater Kingdom is a great amusement park with many different rides, games, food, and fun for everyone in the family or an excellent place for friends to hang with one another and have a great time.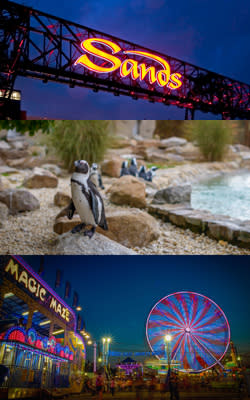 When it comes to food there is no shortage of variety in Lehigh Valley. I would definitely recommend the Hamilton Family Diner in Allentown, affectionately known as "The Ham Fam." They feature a large menu with a friendly staff that will greet and serve you an amazing meal and dessert.
Looking for an amazing cheesesteak, then Carl's Corner in Bethlehem is the place to be. Their cheesesteaks are just like buying one in downtown Philadelphia. Emeril's Italian Table inside Sands® Bethlehem is amazing with a laid back relaxing atmosphere. The food is delicious, the service is great and the employees are awesome
When it comes to a local event Musikfest in Bethlehem is it! With a variety of different performers taking center stage in Bethlehem this yearly event is something to see. There are hundreds of vendors with just about anything you can image to purchase, and with so many shows and performances to watch there is something for everyone.
There are historical areas to walk through and see things from hundreds of years ago. Keep an eye out for an area with American Indians playing music and selling Indian made items. There are so many things at Musikfest that I can't begin to explain or remember it all.
Shortly after Musikfest, The Great Allentown Fair comes to town. It features many different performers, rides, concerts, and a variety of food options.
I LOVE LEHIGH VALLEY AND I'M PROUD TO SAY I LIVE HERE!
Diana P.
With a family of five I'm always trying to find a trip that appeals to everyone, both young and old. Lehigh Valley has so much to choose from, and it really isn't that hard to give mom, dad, and the kiddos their own fun.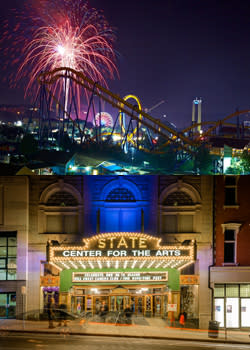 Dorney Park & Wildwater Kingdom is a top pick for our kids and we love to see their excitement when we enter the park. Eating here is quite an experience. Who doesn't love fried Oreos or funnel cake? But a fun night out with our family isn't complete without some hibachi and we love KOME at The Promenade Shops at Saucon Valley.
As for dad, he deserves to try some local brews and even pack some for dinner at Sole Mio Italian Grille. Everyone loves Italian food and B.Y.O.B. makes it perfect for newly purchased brews and perhaps wines purchased along the Lehigh Valley Wine Trail.
For us moms and ladies check out a show and enjoy the beautiful State Theatre Center for the Arts. There are always a number of shows going on, and Easton is quite the foodie mecca.
Looking for a great event featuring excellent music, superb food, and of course wine? The Lehigh Valley Food & Wine Festival usually held in late May at Sands® Bethlehem cover all three. Such fun!
Lehigh Valley offers up some truly choice pickings so all are sure to be pleased. Enjoy!
Jane D.
Travel is fragrance, and Lehigh Valley definitely is filled with many lovely fragrances.
Trexler Park is lush with smells of trees, newly mown grass, and wild flowers. After a long walk at the park, a meal at Wert's Cafe is just what the doctor ordered. The crab cake is recommended. Take a stroll at Art in the Park at West Park, followed by a nap on a blanket near the Allentown Rose Garden, where the luscious smell of roses wafts through the air.
Next, one will want to shop leisurely at the Allentown Farmer's Market for delicious and fragrant kiffels at the Kiffel Kitchen. For dinner, after watching a gorgeous sunset from high atop the mountain at Lehigh University, Cactus Blue serves the most delicious chimichanga this side of the Rio Grande! Finish off the night with a creamy sundae from The Ritz. Now you've smelled, tasted, and seen just a sampling of all that Lehigh Valley has to offer!
Kathleen H.
Family Fun for Everyone
Are you looking for some good clean, quality family fun? The places noted serve to do just that. Dutch Springs is a hidden gem, and by far, one of my favorite places. It allows you to pack a picnic, exert tons of energy, and takes you back to another time.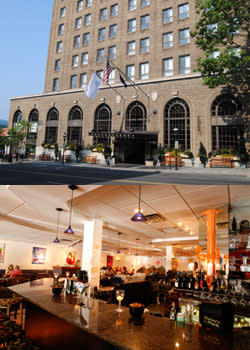 Next, you can get in some music culture by attending the Martin Guitar Factory Tour. Here you can see up close many extravagant guitars made for many well-known artists. If you ask they may even let you play one of their guitars in the strumming room.
A great evening can be had by watching Lehigh Valley's Triple-A baseball team, the IronPigs. If you can squeeze in a Friday night you might just catch a fly ball or some fireworks. These events are very affordable for any family on a budget.
When it comes time to eat, these choices too are affordable. First, Third Asian is another hidden gem. It is a Bring Your Own Bottle restaurant, but the real treat is the sushi. There are many types of rolls to choose from and they are certainly yum. Next, the Apollo Grill has NEVER served up a bad dish. Everything is quality reminiscent of New York City, but at an affordable price. Lastly, be sure to try the Historic Hotel Bethlehem's Sunday brunch. The choices are simply fabulous, although the price may be a bit more costly, it is sure to please everyone.
So, what would make it on your Lehigh Valley itinerary?