Every year I write about my traditional March pilgrimage to all the wineries of the Lehigh Valley Wine Trail. This year the event was just called the "March Passport Program" missing that "insanity" word associated with some random indoor ball games held around the same time. I think you know what I mean.
We planned to go over St. Patrick's Day weekend but one couple had to drop out leaving my sister Kathy with two extra passports. A few text messages later and new plans were made for this past weekend. Her son and his girlfriend would be joining us from Glen Bernie Maryland. First-timers!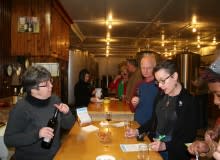 For the past 11 years Kathy and I looked forward to this all winter and raved about how much fun we have along the trail. We just hoped our appreciation would extend to the next generation. Luckily, it did.
I have to admit it really was fun to go with newbies. It was also cool to hang out with my adult nephew and girlfriend outside a "family dinner" environment. By the time we made our second stop he was already starting sentences with "Next year…" and asking if the winery could ship to Maryland. (Yes)
The tradition continues.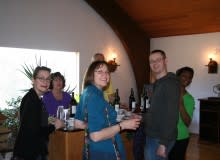 The six of us visited Amore then Franklin Hill, Big Creek then Galen Glen on Saturday filling our cars with multiple bottles of wine. We then headed back to the Historic Hotel Bethlehem where they checked into their gorgeous rooms with views of Main Street.
Dinner at the 1741 on the Terrace restaurant in the hotel was ultra-relaxing and delicious as always. You just can't beat their service and live piano music in the background.
As Don and I were heading home, Kathy drove them over to see the ArtsQuest Center at Steel Stacks with the blast furnaces all lit up. That experience alone is enough to make anyone want to spend more time in Lehigh Valley.
Sunday we hit Blue Mountain, Clover Hill and last but not least, Vynecrest. Although the wine we bought will last awhile, the slate coasters with each wineries logo we received as this year's gift will remind us of this weekend forever. There is already talk of having more of the cousins join us next year!
You don't have to wait until next March to enjoy the wine trail's events. Next will be "Wine in Bloom" May 17th & 18th at all the wineries. Or if you'd rather see them all in one place, mark your calendar for "Wine on the Mountain" at Penn's Peak July 26th and 27th. Maybe I'll see you there!
[gallery ids="18794,18795,18796,18797,18798,18799,18800,18801"]