Back in 2011 I was first invited by Bill Raven of Raven One to One Marketing, to attend the Via Basketball All Star Classic banquet. I wasn't sure what to expect but the chance to hear a famous athlete speak was motivation enough to attend this event after a hard day at work.
[caption id="attachment_18824" align="alignright" width="300"]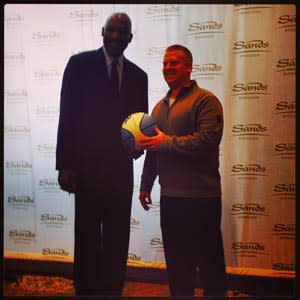 "Big Game" James[/caption]
I'm happy to say that I haven't missed a banquet since, including last night's festivities at the Sands Bethlehem Event Center. Again the chance to hear NBA Hall of Famer and Laker great, James Worthy, speak was definitely a motivating factor, but not the only factor.
I truly am inspired by the great things Via of the Lehigh Valley continues to do for those with disabilities, and to hear these awe inspiring stories really makes the evening worthwhile. My applause goes out to Gerry Yasso, Vice President of Resource Development at Via, and his colleagues for another great event.
I'd be remiss if I didn't say it was a pleasure to meet Troy Tucker and his son Ethan. It's meeting folks like the Tuckers that contribute to the overall enjoyment of the evening. The smile on Ethan's face was priceless as he got his photo with James, and a few autographs including the one on his University of North Carolina shirt, Mr. Worthy's alma mater. James liked Ethan's shirt so much that upon Ethan entering the room he made it a point to silence the whole room and offer Ethan an entrance worthy of a king.
I wrote about Via back in 2011 and I felt compelled to share that story again. So without further ado here's that blog that still has so much meaning for me today.
May 2011

Having an aunt who has cerebral palsy, I have a first hand account of the time an effort my grandmother, grandfather and now mother and father have put my Aunt Toni's well being.  So when I was asked by my good friend, Bill Raven of Raven One to One Marketing to take part in the annual Via Golf Tournament this past Monday I couldn't resist.

In Lehigh Valley since 1954, Via is a non-profit human service agency that relies and needs the help and generosity (both financial and volunteer support) of others to provide the much needed care for individuals with disabilities like Autism, Cerebral Palsy and Down Syndrome to name a few.

Having run the Lehigh Valley Half Marathon Relay in the past and having attended this year's Via All-Star Basketball Classic Banquet, I was somewhat aware of all the great things the folks at Via do to help those individuals and families in need.  But to see the outpouring of time and energy put into a golf tournament on a rainy Monday in May was amazing.

From the moment we stepped on the grounds at Northampton Country Club to the time the clubs went in the trunk, the staff was cordial and willing to accommodate you at ever turn.  Hats off to the staff at the country club and more importantly all the amazing folks at Via for an even wider eye-awakening experience.

I remember a time when people would look at my Aunt Toni (and perhaps still do) with fear and reluctance as she is developmentally delayed.  Remember these individuals didn't ask to go through life with these cognitive disabilities.  Don't walk the other way when you see them, embrace them.  You'd be surprised how much you might learn and fortunate you'd consider yourself to be touched by them.  I know I'm a better person for having my aunt in my life.

I'm sure there are other great charities doing similar great deeds on a daily basis I'd be happy to hear what others think.
Thanks for taking the time to read and thanks to those helping in Lehigh Valley and beyond today.
[gallery ids="18826,18823,18825"]