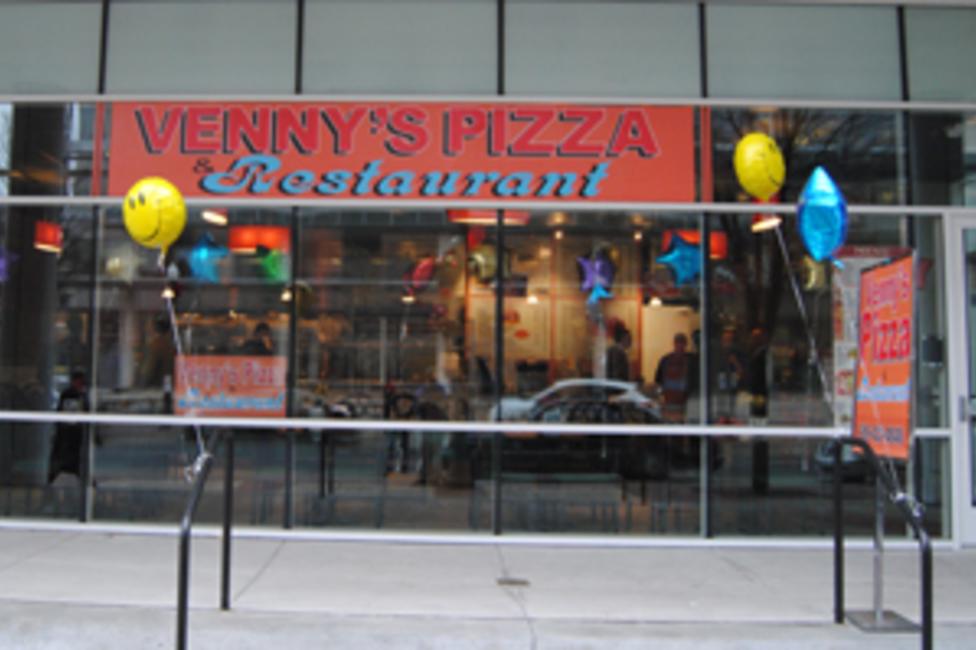 It is a time of good eating for downtown Allentown and you can add Venny's Pizza & Restaurant to the list of many options.
Venny's officially opened it's doors today in grand Lehigh Valley fashion at 840 Hamilton Street.  State and local representatives, as well as Allentown Mayor Palowski, were on hand to say a few words, cut the ribbon and eat.
For the occasion of the grand opening, there was free soda, pizza samplings and tiramisu for the attendees. The menu for everyday business is quite expansive. Pizza in many varieties, burgers, cheesesteaks, hot subs, strombolis, calzones, pasta, salads, and more.
Deli Plaza 2 owners, Mike and Muhammad are operating Venny's and for those of you who remember the original Deli Plaza those two ran at 10th and Hamilton, Muhammad has started painting again! On the far wall is a landscape, that if you go in on a regular basis, I'm sure you'll see it grow. Muhammad is also responsible for the beautiful tile work along the front of the counter.
It's an exciting time to live and work in downtown Allentown. The arena's going to be fully enclosed soon. New businesses seem to be sprouting up every month and the growth is good. Every new start, is growing momentum for building a better downtown. It doesn't have to stop with Allentown, there is growth in Bethlehem, Easton and all the areas that make up Lehigh Valley.
So, when you need a place to eat. Come on down to Venny's.