While many people love the greasy foodie goodness that some local fairs and festivals can provide in Lehigh Valley, Bethlehem's VegFest brings the best in vegan foods, education sessions, and more for those who prefer a healthier alternative.
Now in its fourth year, VegFest takes place on South Bethlehem's Greenway on Saturday, Aug. 23.
[caption id="attachment_20344" align="alignright" width="360"]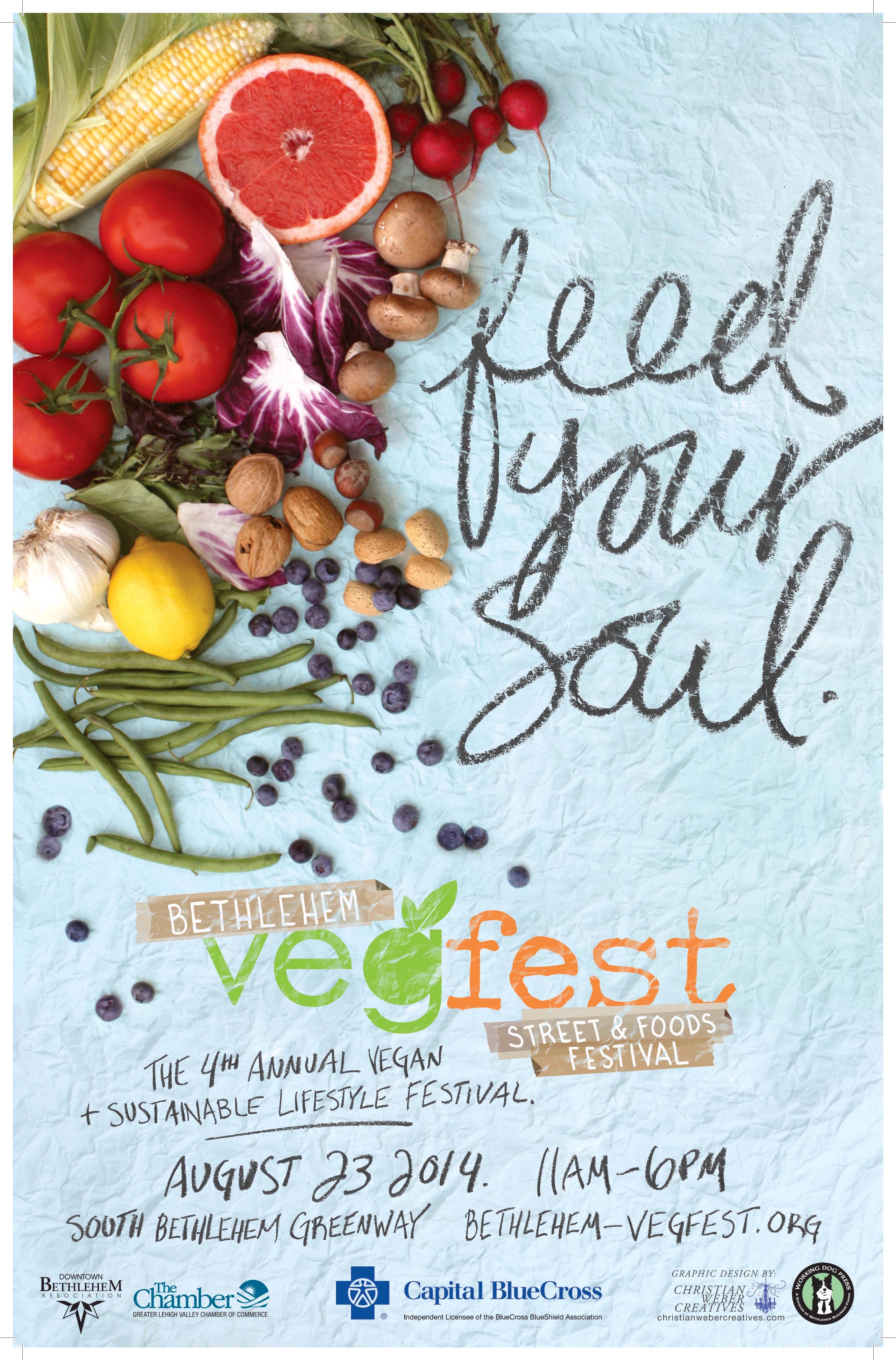 2014 VegFest Poster[/caption]
There are only a few vegan festivals across the nation and only a few on the east coast, making VegFest a destination event for many looking for new types of organic recipes and raw food choices.
According to a press release from the Downtown Bethlehem Association, this year we welcome Gene Baur, president of Farm Sanctuary in New York, the nations' leading farm animal protection organization.
"Gene grounds his message not on accusations or judgments but on facts and research. Come enjoy the festival, taste delicious vegan recipes crafted from Bethlehem to Brooklyn and beyond; farm-to-table chefs at the Farmer's Market or Food Court and learn all you can about a healthy or vegan lifestyle," according to the release.
"At VegFest, you can learn how to incorporate healthy behaviors into your lifestyle with interactive yoga demonstrations and cruelty-free products in the Mind, Body and Spirit corner. Make a new friend for life by promising to cherish a dog or cat via pet adoption at the Animal Haven area,"" according to the release. "Listen to music that will soothe your soul and participate in fun, free, kid-friendly activities at the eARTh Center and Veggie Kid Zone. Please join us and over 50 vendors who all participate in a green way of life!"
VegFest is also a great opportunity for those who may not be familiar with the vegan lifestyle to see what it's all about by trying out new and different foods and taking in some of the lectures, as well.
VegFest is another great addition to Lehigh Valley's "festival culture" and, with an ever expanding food, vendor, and speaker selection, it's one that's here to stay.