Take time to celebrate in Lehigh Valley, Pa. this holiday season! With a festive family excursion in Lehigh Valley, you'll be sure to get everything you want on your list. Enjoy the magic of Christmas City, take in a show, get some shopping done, and check out some of the finest light displays this side of Santa's Workshop. The holidays only come once a year, so make your celebration an unforgettable one with your loved ones.
Here are 7 must-see adventures on our Lehigh Valley Holiday list:
Bethlehem Holiday Christkindlmarkt. A cornerstone of the holidays in the Christmas City is Christkindlmarkt Bethlehem. A six-week long festival featuring hundreds of vendors, aisles of handmade works by the nation's finest artisans, delicious food, and charming holiday music, it's the perfect place to liven up your holiday season—and get your shopping done, too! It's delighted almost one million guests from near and far with its mix of unique gifts, old-world charm and holiday cheer.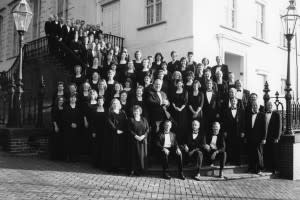 Bach Choir of Bethlehem. Founded in 1898, the Bach Choir of Bethlehem is the oldest, most prestigious American Bach Choir, attracting over 20,000 local, national and international visitors each year. Make the Choir's Christmas Concerts on Saturday, December 6 at 8 p.m. and Sunday, December 7 at 4 p.m. part of your musical holiday adventures.
Nutcracker Ballet. Don't miss Lehigh Valley's best rendition of "The Dance of the Sugarplum Fairies" this December. Presented by Pennsylvania Youth Ballet & World Class Professional Guest Artists, with Live Music by The South Side Sinfonietta, this enchanting musical showcase is synonymous with holiday cheer. Shows take place on December 13 at 1 p.m. and 4 p.m., and December 14 at 2 p.m.
Lights in the Parkway. If there's anything that can brighten your holiday season, this is it! This spectacular, drive-through light display transforms more than a mile of, the Lehigh Parkway, one of Allentown's most beautiful parks, into a glowing winter wonderland. Boasting a host of lighted figures and animated holiday scenes, this is an annual tradition for Lehigh Valley natives and visitors alike.
Koziar's Christmas Village. Celebrating its 67th anniversary, Koziar's Christmas Village holds many titles, including that of "Best Outdoor Christmas Display in the World." Take a walk in this ultimate winter wonderland that features more than half a million Christmas lights decorating buildings, gift barns and the scenic landscape. There's fun for the whole family, too: Enjoy the outdoor train display, photos with Santa, terrific shopping, delicious treats and holiday spirit galore!
Christmas City Stroll, a walking tour of Historic Bethlehem. Bundle up and take to the streets for an enchanting stroll through Lehigh Valley's own Christmas City. Certified guides in period dress will shed new light on beautiful downtown Historic Bethlehem's unique beginnings in 1741, the famous candles in every window, and the renowned Bethlehem Star.
Bethlehem Christmas City Village. The authentic German Weihnachtsmarkt, located in the heart of Bethlehem's historic downtown shopping district along Main Street, is home to 35 wooden huts decked out for the holidays and filled with enticing gift ideas. Be sure to dig in to a brat with sauerkraut and warm up with a mug of hot mulled Gluhwein from Germany!