Two Rivers Brewing Company has been a long time coming. Since the Mount Vernon Ale House closed at the 542 Northampton Street location in 2004, the beautiful and historically vital Easton building has sat waiting to be renovated; waiting for someone to gussy it up to its past grandeur.
Two Rivers Brewing Company did just that when it recently opened and has quickly taken hold in its little section of the city where it sits at a  busy intersection for both motor vehicle and foot traffic. And, almost most importantly, it bridges the gap between bars and restaurants on Easton's Centre Square and those, like Porter's Pub, a bit further up along Northampton Street.
It's almost like it was the missing piece to a pub crawl puzzle.
It was one of those places you'd walk buy and say to your friend, "Man, I can't wait until someone buys that place and makes it into what it could be." Then you'd all come up with ideas of what they could put in there and what you'd name it.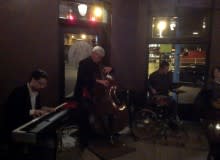 And, judging by our recent visit on a busy Friday night, Two Rivers Brewing Company has made the building into what it could be: a fun gastropub with great beer choices and a diverse and interesting menu. It's a bar great dinner conversation and meeting up with friends.
First, make sure you take note that the entrance is on the Fifth Street side of the building and not on the corner, like we thought at first. Luckily, I was able to just pretend that I had to take a picture of the fun logo on the window and no one pointed out of said window to laugh.
So far, so good.
Once inside, the Two Rivers was bustling. The Jazz band was playing at the end of the restaurant, closest to the windows looking out onto Northampton Street. The bar itself is full and its woodwork and mirrored back are a direct reminder the history of the building. The ceiling itself almost begs you to ask the waitstaff a little bit about the history, what with its inlays and 1920s feel.
On a Friday, nearly all the tables are full for the dinner crowd. It's not full to the point that it's elbow to elbow, but just full enough that you feel like you're in a cool spot. You're definitely where other people want to be. The bar area and restaurant pretty much melt together, which probably wouldn't translate to the best place for a quiet, intimate meal, but, that's not what we were here for.
We wanted to see what they had on tap.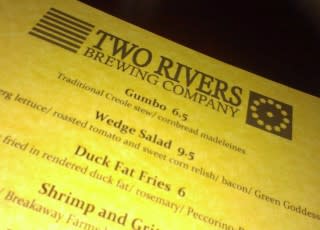 I tried a There Will Be Black by Brooklyn Brewery, one of the numerous micro brews on hand. Two Rivers plans on serving their own brewed beer soon. They also serve local Brew Works and Weyebacher beer.
My date had a Sidecar cocktail, which really fit with the ambiance of the venue.
Had someone walked in with a pinstripe suit and a can, I wouldn't have bat an eyelash.
For dinner, I had the Half Pound Cheddar Burger (medium rare because I live on the edge.) It was delicious, however, judging by the rest of their menu, I feel as though I almost played it too safe. My date had the Shrimp and Grits, which I got to eat a bunch of when I told her to "Look over there!"
By the time the bill came, we were full, pleased with the service and listening to the jazz band wind down the dinner portion of the evening.
Heading back out onto Fifth Street and looking back at the building we had just come from, I definitely think we heard someone say, "This place is what it always should have been."