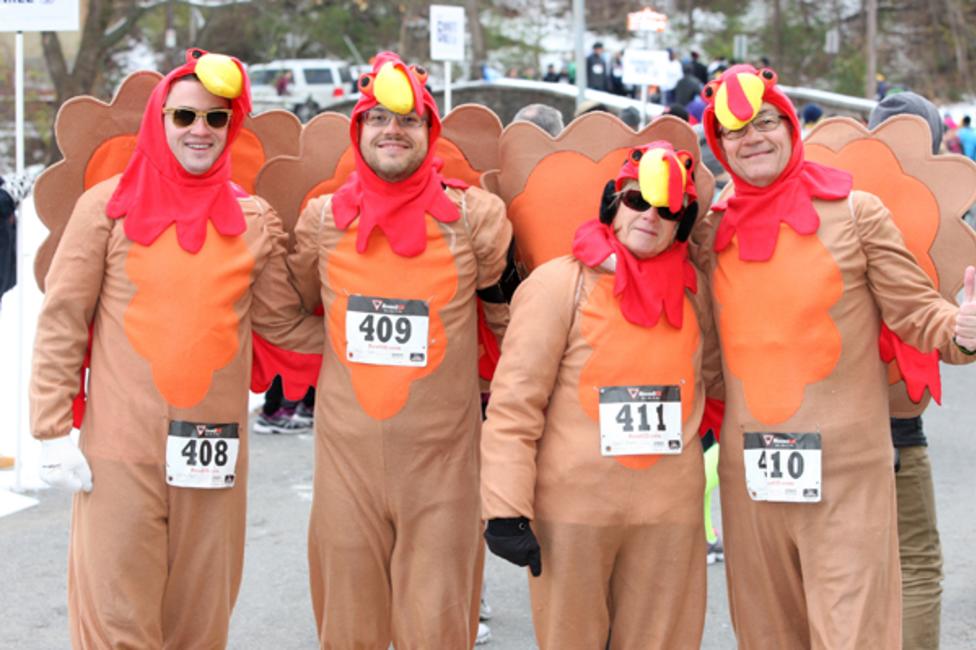 Burn off some of those Turkey Day calories with a bit of fun this holiday season. Join Historic Bethlehem Museums & Sites for its annual Turkey Trot 5k Run/Walk on Saturday, November 28.
Now it its 13th year, this race kicks off in the beautiful Colonial Industrial Quarter of Bethlehem and weaves its way down Main Street, down to Sand Island, and loops back around to the finish line. The course provides a nice run over the 3.1 miles, with a small dose of hills to get your heart rate going.
Even if you aren't a runner, there's still plenty of fun to be had! Join in the Fun Walk portion of the event, where participants are welcome to run with strollers and even their furry friends.
After the race, stop by and say hello to the big guy himself, as Santa will be available for photos at the finish line. Guests can also enjoy Groman's famous Sugar Cookies, which will be available for purchase near the Luckenbach Mill. Guests are also encouraged to visit the Holiday Dinner Art Exhibition preview held in the 2nd floor of the newly renovated Luckenbach Mill on Friday, November 27 from 9 a.m. through 4 p.m. and on Saturday, November 28 from 9 a.m. through noon.
I've participated in this race as a part of Discover Lehigh Valley  'Turkey Team' for the past two years, and I can guarantee that it's a ton of fun! There's no better way to take in some of the historic charm that downtown Bethlehem has to offer than by running alongside some fellow Turkey Trotters down beautiful Main Street. Plus, it's always nice to get out for a run after a delicious Thanksgiving meal!
Interested in participating in this fun event? Check out some race specifics:
Runners will begin at the starting line at 9 a.m. followed by the competitive walkers and fun walkers.
Cost of registration is $40 through November 24, with a price jump to $45 November 25 - 28. Fun walkers can register for $25.
Gathering a group for this event? Be sure to register as a 'Turkey Team' to receive a special shout-out during the race!
All registered runners will receive a long sleeve Turkey Trot T-shirt, complimentary refreshments, and free admission to HBMS museums Saturday and Sunday with the race T-shirt or bib.
Ready to sign up? Register online, or contact Historic Bethlehem Museums & Sites for details. Happy running!