Ingredients:
2 lbs. turkey-chopped (see recipe below for roasted turkey breast)
2 lbs. filling (see recipe below for potato bread filling)
Yield: 40 fritters
Roasted Turkey Breast
Ingredients:
7 to 8 lb. Turkey
Golden Italian Salad Dressing
1/4 c. sun dried pesto
1 T. Cajun seasoning
1 T. Fajita seasoning
3/4 lb. sliced onions
1 carrot – rough chop
1/2 stalk celery leaves and ends
1 qt. water
Method:
Once turkey has defrosted in brine remove, wash and pat dry
Lift up skin and rub sun dried tomato pesto under skin
Rub remaining pesto all over outer skin
Add seaonings together and rub all over turkey skin
Inject each turkey breast 2 times with sysco golden italian dressing
In a roasting pan add chopped vegetables and half of water
Place turkey on top. Breast facing up
Add remaining water half way through cooking
Cook in convection oven at 275 degrees for 3 ½ hours.
Drain all pan juices in a container and save .
Check with thermometer. Turkey doneness is 165 degrees.
Let turkey cool for at least 30 minutes before slicing.
NOTE: LET TURKEY GET TO ROOM TEMPERATURE BEFORE PLACING IN OVEN
Bread Potato Filling
Ingredients:
3/4 packs white bread sliced & diced
10 oz. celery and 1.5 c. water10 oz. diced yellow onion
1 oz. chopped parsley
6 oz. margarine
1/4 t. black pepper
3/4 t. poultry seasoning
1 T. chopped fresh rosemary
2 oz. chicken base
1.5 apple, peeled and diced
Yields: 3 qts.
Mashed Potatoes
1 c. milk
1 c. water
.5 lb. Yukon Gold mashed potatoes
Method:
In a large sauce pan add margarine, celery, onions, parsley and water. Cook over medium heat for about 30 minutes or until veggies are soft.
Add all spices AND diced apples and cook for about 15 minutes.
To make the mashed potatoes heat milk and water in a stock pot until it comes to a boil.
Remove milk and water from heat and add Yukon gold mashed potatoes and whisk. Loose mashed potatoes is what we are trying to achieve.
Add veggies and mashed potatoes to a large mixing bowl and start adding diced white bread.
Mix white bread thoroughly and final product should be achieved.
Egg Wash
Ingredients:
1.5 qts. milk 10 eggs
1/4 tsp. salt
1/4 tsp. white pepper
10 oz. all-purpose flour
Italian bread crumbs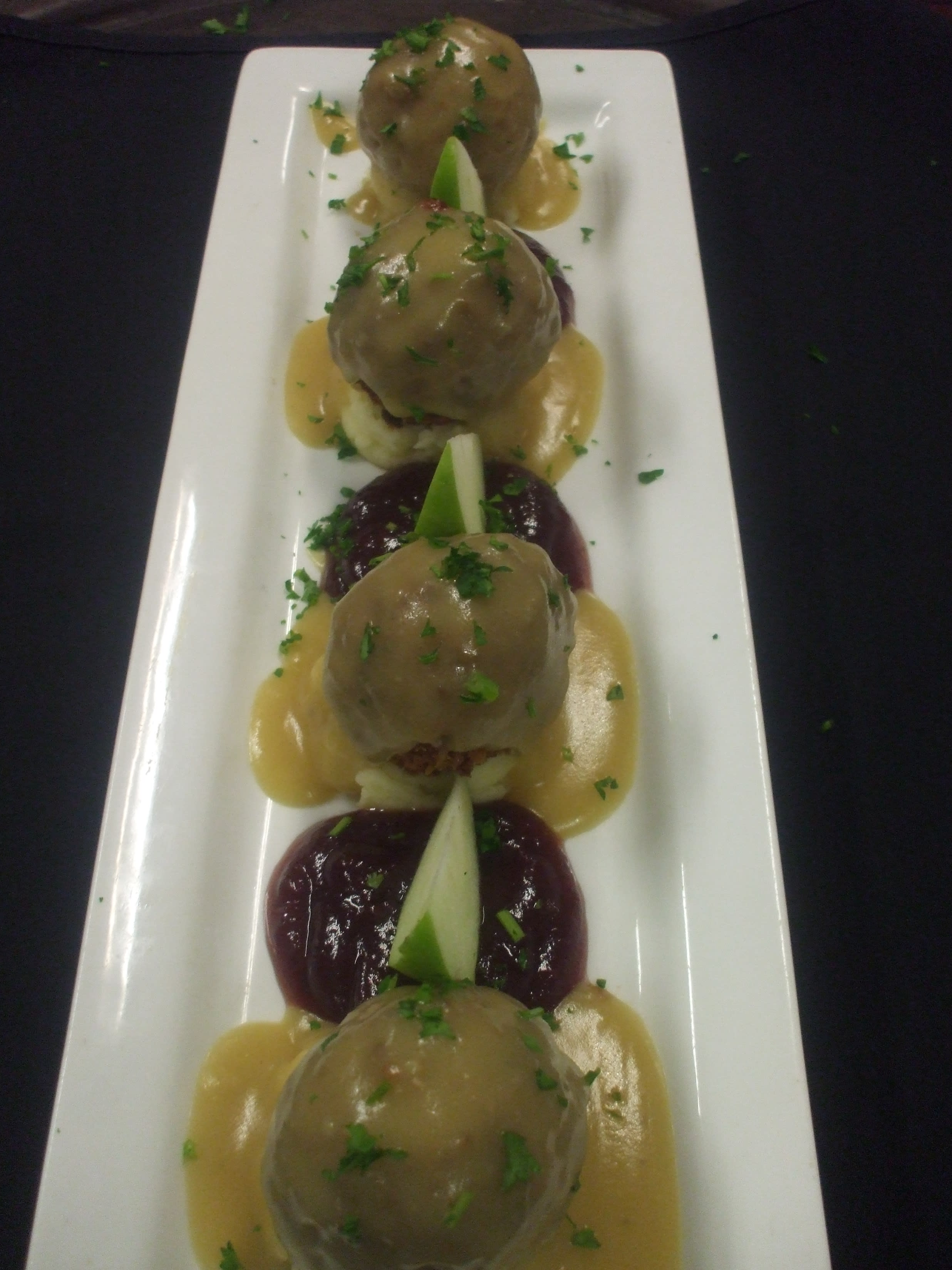 Ingredients:
2.5 oz. iodized salt
3 lbs. Japanese bread crumbs
2.5 oz. curly parsley chopped, no stems
6 oz. parmesan, grated
2 oz. granulated garlic
Method:
Mix filling with chopped turkey.
Use #40 scoop to portion fritters.
Roll fritters in flour, then egg wash, then Italian bread crumbs.