You can hear the music winding between the buildings of downtown Bethlehem well before you reach the band. You can hear the laughter and camaraderie among the throngs of relaxed Thursday evening concert goers who are happy to have the "festival season" in Lehigh Valley finally begin
It's the annual "Tunes at Twilight" concert series in downtown Bethlehem and it's  back bigger, better, and with more music than ever, being extended by three weeks.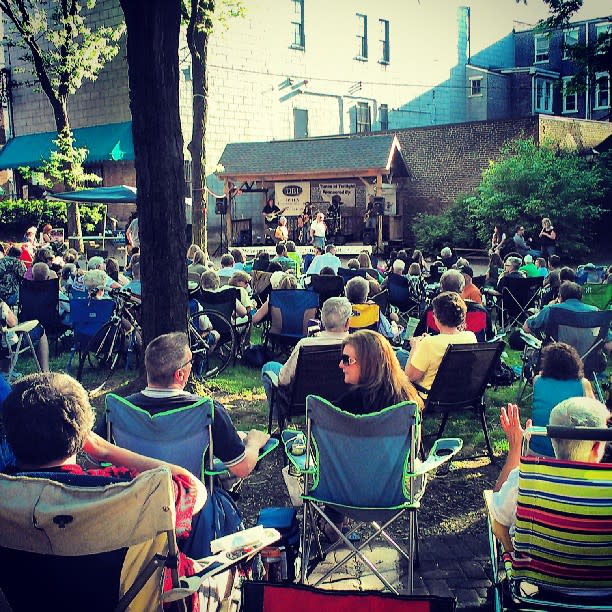 Tucked in the Sun Inn Courtyard just off Main Street, "Tunes at Twilight" features a band each week from 6 to 8 p.m.
Folding chairs and blankets fill the grassy area in front of the stage well before the band begins and local vendors dot the walkways around the lawn, selling food and drinks to tens of dozens who are ready to listen to music ranging from jazz to rock to Caribbean, and more.
And don't forget to bring your pup or your kids, as both are welcome!
Now in it's eighth year, each Thursday show brings in 900 to 1,200 fans and still feels like it's just a bunch of your friends enjoying the beautiful spring Lehigh Valley weather.
After the concerts are over, take a minute to stroll downtown Bethlehem's Main Street, visit some shops, or have a drink at many of the restaurants that offer outdoor seating.
"Tunes" combines some of the things that make Bethlehem, and Lehigh Valley, so great: music, food, friends, and family.
We'll see you there starting Thursday, May 7!
FULL SCHEDULE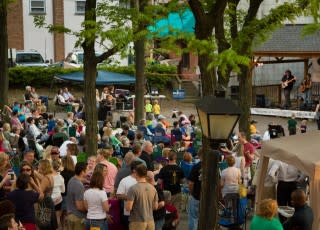 Tunes at Twilight 2015 Schedule
May 7th Ricky and the Ricardos
May 14th Tunes at Twilight will not take place on May 14.
May 21st Fusion Jazz Trio
May 28th George Hrab & TrioLogic
June 4th Peter Johann Band
June 11th Supra & Ayers Quartet
June 18th Trouble City Allstars
June 25th GirlCrue
July 2nd TBA
July 9th Nakked Soul Band
July 16th The Big Wahu Caribbean Band
July 23rd Scott Marshall and the Hillbilly Souls