The winter season is quickly approaching, and if you're like me, it's not only a time for festivities like apple picking and corn mazes but also a time to update my look and prepare myself for the cold dry weather.
Luckily, Lehigh Valley is home to a diverse selection of salons and spas to fit every need and budget. Whether you're looking for a quick touch up or a full body transformation, there's a relaxing treatment just waiting for you to book it.
American Hairlines Body & Soul is a world-class Aveda concept salon, spa, fitness center, and beauty complex located in downtown Bethlehem. Voted "Best of the Valley" for nearly 20 years, American Hairlines stylists are the cream of the hair cutting crop in Lehigh Valley.
I personally have been a faithful client for almost seven years; I have never had anything less than an amazing experience.
The philosophy that drives American Hairlines is the desire to elevate their clients to the next level from head to toe. With a full spa, fitness center, and their trendy boutique, Popmart, all under one roof, it's effortless to walk out feeling rejuvenated from an aromatherapy massage and looking gorgeous with a new hairstyle and wardrobe to match.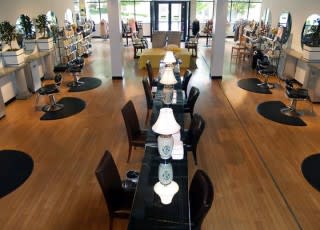 The Spa at Bear Creek located at Bear Creek Mountain Resort is a tranquil getaway surrounded with beautiful mountain scenery. When you walk into the resort and spa area the earthy and elegant decor immediately creates a sense of calm.
The therapeutic treatments offered at the spa will leave you feeling renewed and relaxed. At The Spa at Bear Creek, each experience is focused on your wellbeing. The spa also offers nail, hair and body treatments.
If you're looking to get away from your daily grind for a mini stay-cation on the weekend this is the place to go. While you're there definitely check out The Grille, a full restaurant and bar, at the resort. The vanilla bean cheesecake with fresh blueberries is the perfect sweet ending to any day at the spa.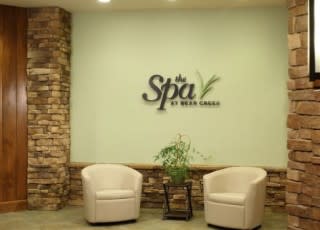 Stone House Inn & Spa is a comfortably elegant retreat in the heart of Macungie, carefully restored from an 1800s stone farm house.
The warm hospitality and uniquely decorated suites make The Stone House Inn a quaint alternative to a typical hotel stay. Located in front of Macungie Memorial Park, Stone House Inn & Spa is a great place to get some fresh air and take a relaxing stroll to unwind before becoming deeply relaxed with a signature stone massage.
The spa also offers detoxifying body treatments like their black mud wrap, as well as reflexology, nail and hair services. When you stop by, be sure to say hello to the spa kitties, Ernie and Esther!