It's no secret that Lehigh Valley is home to some fantastic theatre. From nationally-ranked college programs to summer festivals recognized by the New York Times, your group will be astounded by the quality of performances that can be found throughout the region. 
Local colleges including Lafayette College and Lehigh University host a number of touring ensembles throughout their seasons, ranging from show-stopping musicals to contemporary dance companies, musicians, and more. 
Cedar Crest College and DeSales University are known for their family-friendly performances that take place throughout the school year; perfect for groups of young students. At Muhlenberg College, you'll find boundary-pushing performances by award-winning directors on stage all year long.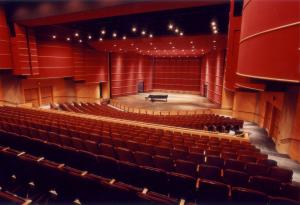 Local community theatres also boast impressive lineups. Small but packed with charm, the Touchstone Theatre presents its annual Christmas City Follies each holiday season. This venue also holds workshops for young playwrights, catering to the creative side of local students. Or, check out the Civic Theatre of Allentown, where several famous actors got their start. Each year, the Civic Theatre puts up an impressive selection of performances, always including their annual production of A Christmas Carol. 
During the summer months, Lehigh Valley is home to two festivals, both housed on the campuses of local colleges. 
The Pennsylvania Shakespeare Festival, housed at DeSales University, offers up much more than just Shakespearean productions. Don't miss their spectacular annual musical production; recent years have featured Evita, West Side Story, and Les Miserables. Theatregoers can also catch roaring comedies and family-friendly performances in addition to a number of Shakespearean works.
At Muhlenberg Summer Music Theatre, the name of the game is musicals. Each summer, two large-scale musicals are produced on the campus in west Allentown. The breadth of these performances can be quite impressive, ranging from traditional operettas to modern rock musicals. The annual children's theatre production is sure to delight audiences of all ages, and often features original work from the Muhlenberg community. 
Tickets for performances do sell quickly, and group rates are often available. For more details or to start planning your next visit to Lehigh Valley, contact the Discover Lehigh Valley team.