Ready to get off the beaten path? These tours give you a unique perspective for your next group excursion to the region.
Start your group adventure with a drive around the picturesque Lehigh Valley following our turn-by-turn directions on the Lehigh Valley Covered Bridge Tour. This tour is approximately 50 miles long and will give you stunning views of the seven remaining covered bridges scattered throughout the region. The Lehigh Valley Covered Bridge Tour will offer you an opportunity to journey back in time to a quieter, more idyllic way of life.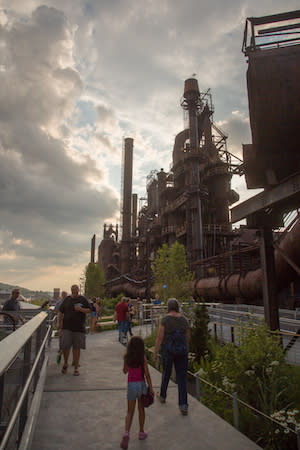 Another great group activity to journey into the past is the Hoover Mason Trestle. Located along the base of the blast furnaces at SteelStacks, this elevated parkway allows guests to get a view of the former Bethlehem Steel plant as its never been seen before. The 1/3 mile walkway not only features a chance to view the historical furnaces, but the opportunity to learn about what life was like as a steel worker. Many plaques dot the trestle, noting the significance of certain portions. The HMT is handicapped accessible with an elevator on site. Groups can opt to take a guided tour or explore on your own.
If your group is looking for mystery and the unknown, check out Lost River Caverns, nature's underground wonderland. Explore cavern chambers that feature an abundance of stalactites, stalagmites, and other crystal formations along with fluorescent minerals. Decide on your theory of the Lost River, whose clear waters mysteriously originate from an unknown source, then disappear once more beneath the earth's surface. 
Looking for more picturesque scenes of the valley? Take a group for a jaunt along the Delaware & Lehigh National Heritage Trail. This trail spans 165 miles from the mountains of northeast Pennsylvania through the Lehigh Valley and Bucks County.  The D&L trail is both a diverse, multi-faceted organization, and a multi-use trail. Grab a bike or walking shoes and enjoy a nice stroll along the historical route. 
Ready to start planning your tour? Contact the Discover Lehigh Valley team to get started.