PA Bacon Fest (November 6-7, 2021 from 10 a.m. – 5 p.m.) has been named one of the '5 Can't-Miss' bacon festivals in the country — and celebrates 10 years of bacon-y goodness in 2021! This two-day festival, held in Easton, Pennsylvania, serves up delicious food, live music, cooking demos, 100+ vendors, family-friendly activities, and every sort of bacon treat you can imagine. 
Here are the top 8 things sure not to miss at this year's festival:
8. Check out the smokin' music lineup.
PA Bacon Fest offers four stages of live music featuring 15+ performances of bluegrass, rock, blues, country, and more. Check out the 2021 music lineup.
7. Sign up for bacon texts. 
Don't miss a second of the action! Text 'baconfest' to 56525 to get updates on the 2021 festival. Message and data rates may apply.
6. Watch the races.
Watch the Pig & Weiner Dog Races, presented by The Morning Call. Race times are 11 a.m., noon, 1 p.m., and 4 p.m. both Saturday and Sunday on East Northampton Street.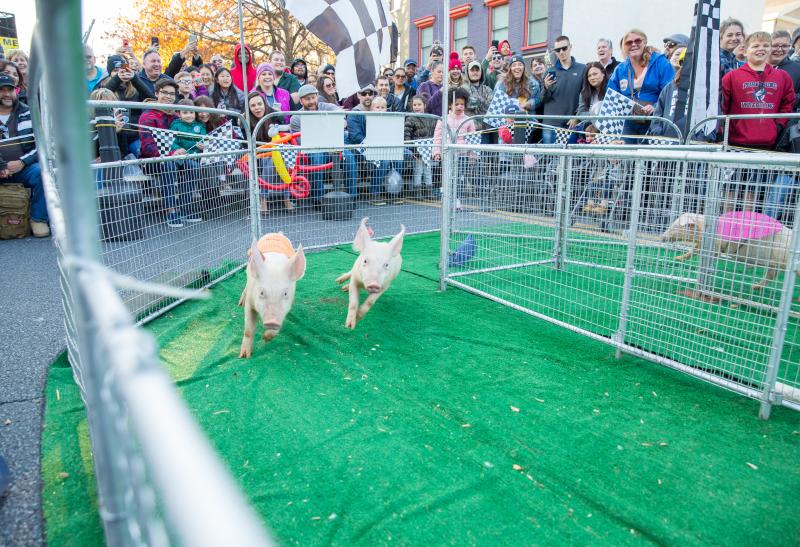 5. Visit the family-friendly section.
Bring the kiddos and explore the rock climbing wall, bungee jump, face painters, and caricature artists. Wave hello to the stilt walkers and catch a performance on the Piglets Stage. You'll find the family-friendly section along East Northampton St.
4. Catch a game in the Pigskin Lounge presented by Sugardale.
Escape the crowd, grab a beer (in fact try a great local brew), and watch a football game. You'll find the Pigskin Lounge is on South Third Street.
3. Wear Your Bacon Finery.
Compete in one of PA Bacon Fest's contests. Will your outfit win you the trophy in the annual Bacon Costume Contest, or will you impress the crowd during the Hog Calling Competition? Or, are you daring enough to attempt the Bacon-Eating Contest?
2. Snag a Ticket for Bacon & Brew.
Get there early for a spot at the festival's most popular attraction! Bacon & Brew features craft beer paired with specialty bacon from Breakaway Farms. VIP tickets will be available in advance of the festival at pabaconfest.com. Limited tickets will also be available at the event from noon - 4 p.m., while supplies last. VIPs get early admission at 11 a.m.
1. Feast on all things bacon.
Bacon on a stick. Chocolate-covered bacon. Bacon Poutine. Bacon Cannoli. Bacon Bloody Mary. Peanut Butter Bacon Beignet. Bacon Cookie Sandwich. The Bacon 50/50 Burger. And 50+ types of bacon! PA Bacon Fest serves up mouthwatering, sweet and salty treats you've never seen before.
Ready to head to PA Bacon Fest? Here are some important Bacon Bits to note:
PA Bacon Fest will adhere to CDC, state, and local health guidelines for this outdoor festival.
Skip the traffic and use one of PA Bacon Fest's shuttle lots. 
PA Bacon Fest is a fundraiser for the 501(c)3 nonprofit Greater Easton Development Partnership (GEDP). Visitors are asked to donate $2 at the entrance gates to benefit the following GEDP programs: Easton Farmers' Market, Easton Main Street Initiative, Easton Garden Works, Live at the Falls, Easton Ambassadors, West Ward Community Initiative, Easton Compost Program, and more! Funds raised through PA Bacon Fest support free events and programming in Easton.
PA Bacon Fest is sponsored by Sugardale, IBEW Local 102, City of Easton, Breakaway Farms, The Morning Call, and Lehigh Valley Health Network.