Middle Eastern dishes make for some of my favorite meals. If you're like me, you enjoy sharing a few (or lots of) appetizers so that you can try a little bit of everything.
I've grown to love a few restaurants here in Lehigh Valley that serve top Middle Eastern dishes. Local family-owned joints usually top my list. Read on for my current favorites. Aladdin: For as long as I can remember, Aladdin has always been my go-to spot for special occasions. I tend to accidentally fill up on appetizers here with hummus, babaganouj, arnabit, and falafel. Warning: you will get hooked on any and all of the kabob platters brushed with the perfect amount of garlic and served over delicious rice. The ambiance paired with outstanding hospitality is what makes Aladdin stand out to me. Come out for live belly dancing on Saturdays and don't forget to BYOB.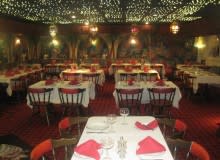 Allentown Fairgrounds Farmers Market: With endless salads, dips, and sandwiches, Foods of the Mediterranean at the Allentown Farmers Market is a true food experience. After browsing the market's numerous merchants and concessions—sit down or take a meal to-go at this authentic Mediterranean joint. Enjoy a variety of dishes from vegan eats to delicious meats and sandwiches.
Damascus: If you're looking for something more casual, head to Damascus. With similar menu items as Aladdin, you'll find a variety of kabobs, hummus, appetizers, and sandwiches. I usually opt for the fried cauliflower or one of the kabob platters. Again, BYOB is an added bonus at this cozy joint.
Hummus House: The all-natural hummus and baked falafel are reason enough for this to be on the list! If you're looking for take-out or delivery, Hummus House is the perfect option.
Lazeez Fresh Mediterranean Grill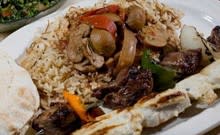 : With a convenient location at Tilghman Square, Lazeez is the perfect spot to grab a pita sandwich and a variety of delicious appetizers. I actually create my own concoction here that makes for the ultimate pita sandwich. I ask for the chicken kabob wrap and arnabeet wrap to be combined. Be prepared for large portions and outstanding hospitality.
True Blue Mediterranean Cafe: True Blue offers a casual café atmosphere with traditional Mediterranean food. All wraps and entrees come with a side of delicious homemade pita chips and hummus. Note that they boast a specialty drink menu featuring coffee and espresso drinks as well.
Make plans to try out one of these delicious restaurants this year. Did I miss any of your favorites?