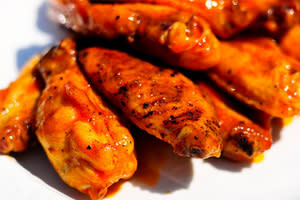 Most of my friends like a good happy hour spot, but what they like more are good wings. Wings really tell you what a bar or restaurant is all about. While every bar can have the same beers on tap, it's nearly impossible for them to have the same wings in the kitchen.  And, while I never used to be a big wings person in the past, now I'll say "let's go for wings" more than any of my friends.
Below you will find the top five places that I consider to have great wings in Lehigh Valley.
5. Tuesdays at the Tally Ho Tavern wings are $.50, plus you get a side of trivia.  If I remember correctly they have approximately seven different flavors of sauce to choose from.
4. Krocks Pub offers $.35 wings Monday through Saturday from 5 – 9 p.m. with seven different flavors to choose from you can't go wrong.
3. Celebrations Bar & Restaurant hidden on Union Boulevard offers a variety of wings sauces. This is another place that the wings taste that much better when done extra crispy.
2. P.J. Whelihan's not only has seven flavors of buffalo style wings, but they have the best boneless wings also to be known as buffalo nuggets. I'm not a fan of hot items but their hot n honey are delicious.
*drum roll please* And for the number one spot…
J. P. MacGrady's has 15 different flavors ranging from BBQ to kryptonite. My suggestion is to order them extra crispy. I usually go with sweet n sweaty at MacGrady's.
Grab yourself an ice cold drink, whatever you fancy and try out a few of these places or tell me where your number one spot for wings is.