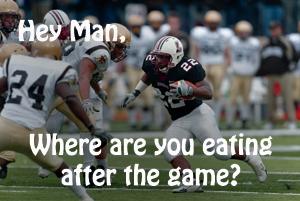 After the tailgating, touchdowns and, hopefully, not a tie, the crowd at Fisher Field will need somewhere to catch a bite or a few drinks. Lehigh and Lafayette meet for the 148th time on Saturday, and both Bethlehem and Easton downtown areas will be awash in alumni, family, friends and students.
Shops get full. Bars get packed. Seats get limited.
We've seen it before. In fact, we've been in the thick of it. You walk out of the stadium with your friends and family and everyone starts wondering where they should go next. The first spot you get to is packed and it's a 45 minute wait. You didn't make reservations because, well, whoops. So, where can you head in the Bethlehem and Easton areas following the game?
Keep in mind that most restaurants and bars will be full on Saturday, so expect a wait no matter where you go. However, with our little handy dandy list, at least you'll feel like you have an idea on where you're headed. And that's really important if your wife is asking you for suggestions.
Easton
Since the game will be held Lafayette this year, you can expect Easton to have the largest groups looking for open tables. Your best bet, obviously, is to have reservations. But, if you forget, here are our picks for where to head.
1. Porter's Pub 700 Northampton St.: Porter's is a few miles away from Lafayette's campus, which means you may be able to avoid the initial rush if you head directly there after the game. With both great food and a rustic atmosphere, Porter's remains one of the best pubs in Lehigh Valley.
2. Sette Luna 219 Ferry St.: Located in the heart of Easton, Setta Luna is authentic Italian at its finest.
3. College Hill Tavern 420 Cattell St.: Not everyone may be looking for a large sit-down dinner. "The CHT," as it's affectionately known, is a great spot to grab a few beers, good bar food, and a round of darts. Plus, it's within walking distance from the game.
4. Leaf Restaurant Cigar Bar & Lounge 90 Mort Dr.: Pssst, Lafayette seniors, want to impress your mom and dad? Take them to Leaf. Beyond that high end feel to the place, Leaf's taps include Guinness Stout, plus nine other craft beers that rotate during the month. Leaf's beer menu also features over 90 craft beers ranging from pale ales and wheats, to bocks, IPA's, Belgian lambics, and more.
5. Valenca 64-66 Centre Sq: Valenca's located right on Easton Centre Square and should see an influx of people right after the game. Reservations are highly recommended for Saturday and, if you haven't tried their steak on a stone entree, you haven't truly been to Easton.
Bethlehem
While the game isn't being played at Lehigh University this year, that doesn't mean the restaurants and local bars won't be benefiting. Lehigh alums, students and families will return to Bethlehem to meet up for dinner and a little bit of catching up.
1. Bethlehem Brew Works 569 Main St.: The city's real "go-to" restaurant, Brew Works will be heavily attended the day of the game, but don't let that keep you away. Call now to secure some reservations. It also doesn't hurt to head there even if you think it may be busy. They will give you a buzzer that you can use while walking around The Shoppes at Main Street Commons.
2. Applebee's 2019 Motel Dr.: Have a large group? Applebee's will be able to accommodate and waits shouldn't be that long due to their size. Located right of Route 22, it's perfect for stopping to after the game.
3. Copperhead Grille 5737 Rt. 378: A bit further down the road from center city Bethlehem, Copperhead has become one of the best sports bars in Lehigh Valley. After you've watched Lehigh or Lafayette win, catch up on the rest of the sports world on one of their numerous TVs.
4. Molinari's 322 E. Third St.:  A newcomer to the Bethlehem area and located on Bethlehem's south side, Molinari's is your authentic Italian stop.
5. Molly's Irish Pub & Grille 4 E. Fourth St.: Molly's is a true Lehigh University favorite. If you want to see the place your kids spend their Thursday and Friday nights, it's the spot to be! Molly's also has a great dining area and a slew of micro-brews.
There you have it. If you need even more suggestions, please visit our dining section on DiscoverLehighValley.com
If you need any tips the day of the game, tweet us at @lehighvalleypa