If you're like me, you can't round out a meal without something sweet. We've talked about the best places to get ice cream, and even the best cupcakes in the region. But what about a good old dessert? Satisfy that sweet tooth with some of my favorites found in restaurants throughout Lehigh Valley.
Hula Pie from blue grillhouse This is definitely one to share! Loaded high with vanilla ice cream, a macadamia cookie crust, and chocolate fudge, this sweet treat is the perfect ending to any meal. The combination of ice cream and fudge is just enough to satisfy without leaving you feeling too stuffed.
Dessert Shooters from the Slopeside Pub & Grill at Blue Mountain I'm notorious for being indecisive, so these are the perfect solution! The Slopeside Pub & Grill at Blue Mountain (open year-round) offers mini dessert 'shooters' for when you can't commit to a full serving. The varieties change out seasonally, so you'll always have something new to try.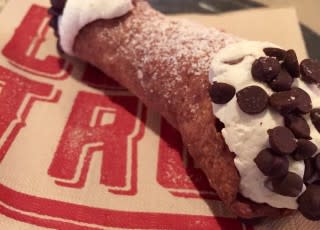 Cannoli from Centro Sometimes you just need a teeny bit of sweet to wrap up your meal. The cannoli from Centro, one of the newest restaurants in downtown Allentown, fits the bill perfectly. Whether you're dining for lunch or dinner, these make the perfect end to your meal.
Beignets from The Bayou I've sampled beignets in New Orleans, and these are just as good! Treat yourself to an order of these fluffy bits of dough, but be prepared to get a little messy- they are topped off with a heap of powdered sugar to complete the traditional southern dish.
Guinness Chocolate Fudge Brownie from Pearly Baker's Ale House No dessert roundup would be complete without a hearty helping of chocolate, and this brownie is sure to delight! Pair it with a scoop of ice cream and your belly will be happy.
What are your favorite treats when you're in the mood for something sweet?