Easton, Pa. is home to some of the most colorful fun around. Located in Lehigh Valley,along the convergence of the Delaware and Lehigh rivers, this city thrives on its proud historical heritage. Join in on the fun with one of the many family-friendly events throughout the year.
Here are the top five things to do with your children in Easton, Pennsylvania.
Head to the Crayola Experience where the magic of color comes to life! More than 60,000 square feet of wonderful, whimsical adventures await your family at this one-of-a-kind attraction in Easton, the birthplace of Crayola crayons. The Crayola Experience was recently re-imagined and features 26+ hands-on and interactive exhibits that allow kids to explore art and technology, express their creativity, and experience color in a whole new way. You and your kids can do everything from building a custom marker to animating your creations on a huge digital projection screen.
A Martin Guitar Factory tour gives you the chance to see the history of music being made. Martin has been handcrafting the finest acoustic guitars in the world for over 175 years. Take a tour and see the guitar and the music come to life. Be sure to stop by the museum and pick up some apparel and souvenirs at the 1833 Shop.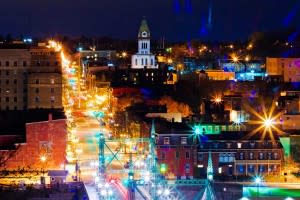 The State Theatre Center for the Arts provides entertaining shows year-round, complete with an historic 1,500 seat performance hall, Acopian Ballroom, and Easton Hospital Gallery. It continues to present top headliners, national tour Broadway shows, comedy, concerts, and family programming. It's one of Lehigh Valley's must-experience attractions!
Take a lazy ride back in time at the National Canal Museum aboard the Josiah White II, Pennsylvania's only mule-drawn canal boat, cruising a section of the Lehigh Canal in Hugh Moore Park. The authentically-dressed crew will guide you through the story of the anthracite canals and the people who worked and lived on them, while the mules — George and Hank — tow you on a 40-minute trip through serene scenery. The museum is the only one in the country dedicated to telling the story of America's historic towpath canals.
The Heritage Guild is a unique destination: It's a firearms and archery retail store with ranges, training, and special events, all available in a modern, safe, and comfortable facility. The Heritage Guild's Training Academy can prepare anyone, from novices to seasoned gun and archery enthusiasts with comprehensive training and the ability to take your skills to the next level. The flagship store houses an indoor archery range, indoor firearms ranges (totaling 29 lanes), rental guns, plus full service gunsmithing, and bowsmithing.