Here in Lehigh Valley, we have no shortage of places for James Bond to order a dry martini, "shaken, not stirred." Whether you find yourself in Allentown, Bethlehem, or Easton, you're never to far from a great martini. We put together a list of our favorites. What are yours? Let us know in the comments section below.
Looper's Bar and Grill - With more than 75 different martinis on their "Fruity Menu" alone, Looper's selection is extensive. They also offer more than 50 coffee martinis, more than 45 unique 'Special-tinis,' as well as dessert martinis, frozen martinis, cosmos and margaritas. If you're looking for a festive drink to enjoy the fall weather, I highly recommend the pumpkin pie dessert martini.
Apollo Grill – An award-winning restaurant and bar located in downtown Bethlehem, Apollo has a delectable martini menu. If you're looking for a place to relax and unwind during the work week, Apollo is the place to be on Thursdays from 5-7 p.m. Their 'Therapeutic Thursday' happy hour specials feature $7 martinis as well as $5 glasses of Cabernet and chardonnay. My personal favorite is the Apollo's Arnold Palmer.
Stratus Restaurant & Lounge – Located on Airport Road in Allentown, Stratus Restaurant and Lounge is a trendy place to hang out and enjoy a great drink with friends. Expert mixologists at Stratus feature a menu of more than 30 excellent martinis to choose from. If you're in the mood to let your hair down, karaoke with B-Dazzled Barb on Wednesdays is the perfect way to celebrate hump day. How could you not have fun singing loudly with a 'Peanut Butter Jelly Time' martini in hand?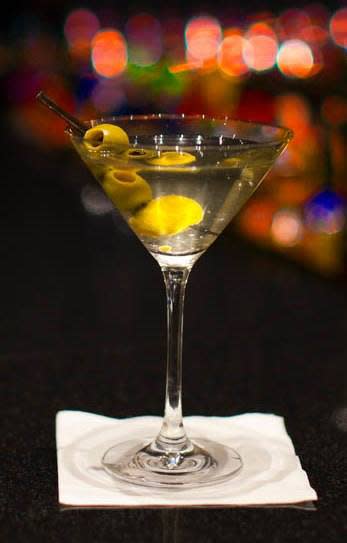 Cosmopolitan – One of downtown Allentown's finest restaurants, Cosmopolitan has daily happy hour specials featuring Svedka martinis. Tuesday through Thursday from 4-7pm and Friday from 4-8pm, patrons can enjoy a classic martini happy hour for $4.95. With an award winning food menu, elegant decor and complementary valet parking, Cosmopolitan makes it easy to have a fantastic evening. If you're looking for a late night adventure, the grand opening for Wave Nightclub, Cosmopolitan's rooftop dance club, is coming up this weekend on October 25th and 26th featuring DJ Xtina.
Pistachio's Bar and Grill – A casual American style restaurant with an eclectic twist, Pistachio's has great food and more than 45 martinis to enjoy. If you haven't yet, I would definitely try the pineapple upside down cake martini, it's to die for!
Honorable Mentions
Twisted Olive ­– A fun new bistro in downtown Bethlehem with a stylish and approachable atmosphere, Twisted Olive features a unique cocktail list as well as a fabulous signature martini. Patrons of Twisted Olive can expect an eclectic menu with a world twist, passionately created by owner and chef Steve Kershner.
Other noteworthy places to grab an excellent martini include Broadway Social on Bethlehem's South Side, Maxim's 22, and Ocean in Easton.