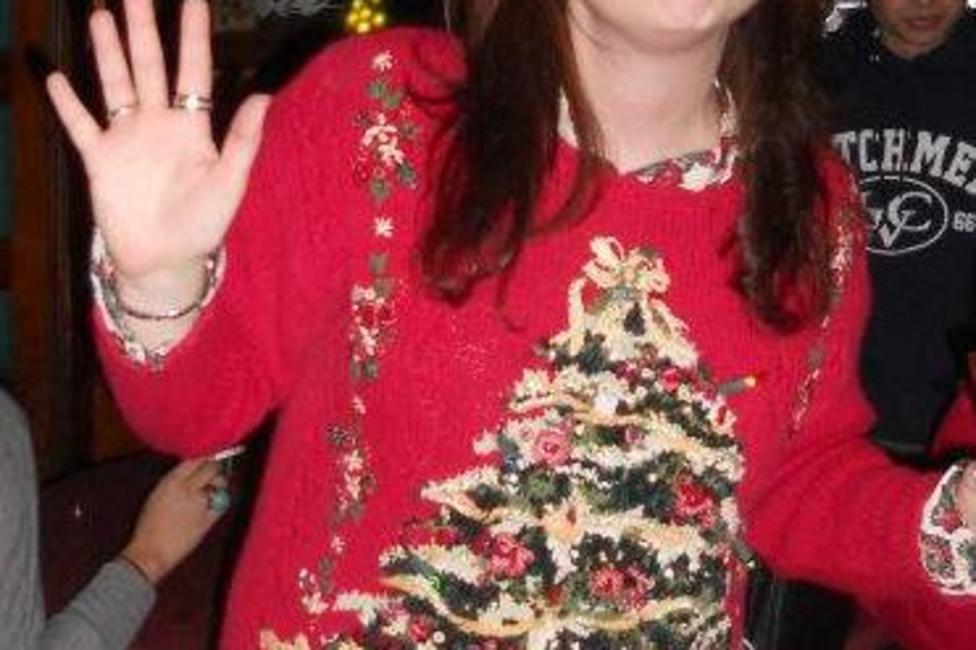 It's that time of year folks, the time of cheer, the hustle and bustle of shopping, exchanging presents with friends and family….and looking at some folks only to smile and say "what the heck are they wearing?!" Yes, it's time for ugly holiday sweaters! To help celebrate the holiday season and give people a night off from shopping and the hysteria, I host an Annual Ugly Holiday Sweater Bar Crawl.
This year was my second time hosting the annual ugly holiday sweater bar crawl (I know it's a mouth full). This amazing event takes place on SouthSide Bethlehem where several of us frolic through the streets in what are sure to be the most hideous tops you've seen in a while.
On Saturday evening I put on my sneakers and jeans, got my (boss's) Christmas sweater out of my closet, grabbed my reindeer antler head band and drove over to Bethlehem. Now last year I had the ugliest sweater until my sister showed up, this year I was going all out. I added battery operated lights to my sweater, go ahead, take another look at the picture, you'll see those beauties.
Ten of us started with a pre-crawl dinner at Looper's Grille & Bar. Natalie and the staff at Looper's are always friendly, always more than accommodating and let's be honest, who doesn't love a good martini? The crawl started at 8 p.m., and slowly but surely a flow of ugly sweaters started to consume Looper's dining area.  Pictures were being taken, compliments on the ugliness were being handed out and I even heard a woman say "is that girl seriously wearing that?" as I walked by. A person has to have a certain kind of personality, level of pride, way about them to wear such an atrocious item in public. There were 26 of those "kind" of people on Saturday.
We then marched down to J.P. McGrady's, where all the bouncer could do was smile and laugh occasionally and one gentleman eagerly checked out each person's sweater. He loved my aunt's and my ability to light up the room, so I made sure to give him the whole shabang by lighting up my antlers too. Around 9:30 – 10 p.m. it was off to Tally-Ho Tavern we go! Ok fine, proper English, we went. We were supposed to make one more stop at The Firehouse, however everyone was having such a great time at Tally-Ho that the crawl stopped there. We ordered food, started dancing; we even met a few others who were on an ugly crawl themselves.
If you're thinking that all of this sounds fun, it is! Look for us next year on the second Saturday of December crawling around Lehigh Valley or maybe just SouthSide again. Or dust off a sweater and plan your own in the meantime. Either way, mark it in your planner now. Do you attend or host any fun holiday party/shenanigans?