Have you ever wanted to just get away? Find an undiscovered place where there is plenty to do, where you can explore at your leisure and reconnect with the ones you love? We have just the place for you to spend some "timeless days" without every moment scheduled, totally relaxing, meandering, browsing, dining, sipping and even doing a little learning.
Get away to Lehigh Valley and its historic countryside for a few days of scenic byways, antique browsing, historic districts, distinctive wines and panoramic views at the wineries. You'll begin your trip by completely relaxing at Glasbern, a historic farm where you can put your feet up. The same afternoon, you can sip at Vynecrest before settling in. The following morning you can explore Historic Bethlehem before meandering off on the Lehigh Valley Covered Bridge Tour.
On day three get inspired at the Allentown Art Museum of the Lehigh Valley before taking a lunch cooking class followed by an art class. On day four, it's over to Easton and a beautiful, scenic drive along the Delaware River to visit more wineries up north. And, on day five, you're off to do some antique browsing before you head off home.
Each day, you'll be tasting on part of the Lehigh Valley Wine Trail and viewing structures on the Lehigh County Log Cabin Trail. As you meander through Lehigh Valley, we'll point out the antique shops, chocolate makers and other interesting places you may want to stop. Ready to get away? Call now to book your trip!
Day One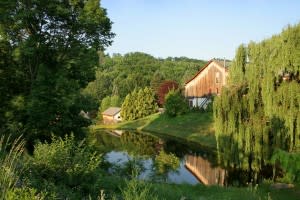 This afternoon as you arrive in Lehigh Valley, plan to take a long, deep breath. Glasbern has one of the finest restaurants in the region and you have dinner reservations, so there is no need to rush around to do anything when you get here.
Timeless Glasbern dates back to 1787, yet the farmhouse occupied by the various early families was not enhanced with running water and indoor plumbing until 1985. That's when the Inn's owners moved in to begin creating accommodations in the barn. The name comes from the old English for "glass barn." Now many of the additional original buildings on the farm have been meticulously restored as additional accommodations.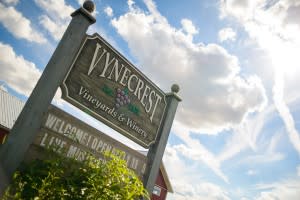 Sustainable agriculture for farm-to-table dining began in 2005, reviving an excellent parcel of land that had lain fallow for about 15 years. Now encompassing over 130 acres, the entire farm practices sustainable agriculture to produce vegetables, cattle, hogs and poultry for use in the restaurant.
When you are so inclined this afternoon, you can wander over to Breinigsville and the Vynecrest Winery, where handpicked grapes from the vineyard are the source of the estate-bottled, award-winning wines. Relax on the patio with spectacular views of the vineyard while you sip. If there's time, you can start your Lehigh Valley Covered Bridge Tour at Bogert's Bridge, located in a lovely park in western Allentown.
Accommodations: Glasbern
Day Two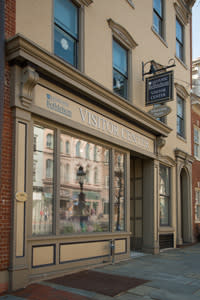 This morning, we suggest your first stop be the Bethlehem Visitors Center, which immediately begins to introduce you to Bethlehem's heritage. The Visitors Center is flanked with the 1810 Goundie House, believed to be the first brick residence in Bethlehem and the first private home in the area. Next, visit the Moravian Museum located in the 1741 Gemeinhaus (community house), where some 80 residents lived, worked, learned and worshiped while other permanent structures were constructed.
From there, it's a short stroll to the Kemerer Museum of Decorative Arts, which features portraits, landscapes, 19th century furniture, jewels, china, silver and an extensive collection of Pennsylvania German textiles and priceless Bohemian glass. It is one of only 15 museums in the United States devoted to the decorative arts. Plan to have lunch at the Moravian Bookstore Deli or Historic Hotel Bethlehem before departing Bethlehem on the Lehigh Valley Covered Bridge Tour.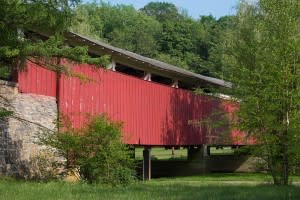 Beginning with Bogert's bridge in Allentown (if you didn't get there yesterday), you'll be making your way through the beautiful Lehigh Valley countryside on the portion of the tour, ending in Schnecksville at Rex's Covered Bridge. Along the way, you can also view locations on the Lehigh County Log Cabin Trail in the Schnecksville area.
You are very near Blue Mountain Vineyards with panoramic views of the mountains. A California style tasting room offers European ambience and friendly staff. If you're so inclined you can also visit Galen Glen Vineyard and Winery where a new European-inspired tasting room invites you to sample hand-crafted wines. And of course, along the way, you have to stop at family candy makers, Josh Early Candies for great chocolates. We recommend dinner at Youell's Oyster House before heading back to Glasbern.
Accommodations: Glasbern
Day Three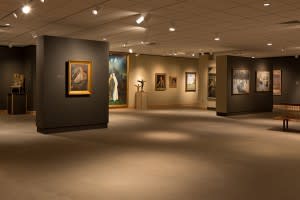 After enjoying a wonderful breakfast at Glasbern, plan to be inspired at the Allentown Art Museum of the Lehigh Valley this morning. Nearly one half of the museum's collection of 17,000 works is comprised of textiles from 16 centuries and five continents, assembled to illustrate their role as "the fabric of life." The now more than 100 Old Masters works began with a donation of 60 paintings which illustrate a balanced spectrum of Renaissance and Baroque art. The early Flemish works painted on wood are particularly beautiful. A number of the American works featured are by artists from Eastern Pennsylvania.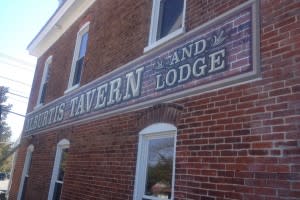 There will be plenty of time to reflect on these wonderful works during a cooking class at Landhaven Bed & Breakfast that will also serve as lunch. Donna's lifelong adventure with food has ranged all the way from managing test kitchens for major corporations to breakfast at her own Bed and Breakfast.
And now, after two days of inspiration, it's time to head for Boyertown, for a two hour private art class at Studio B which offers instruction in photography, print making, drawing, painting, sculpture, mixed media, cartooning, storytelling, poetry writing, yoga and just about any other medium you want to try.
Enjoy a sip or two at Amore Farms on the way back to town for dinner, which we recommend at Alburtis Tavern.
Accommodations: Glasbern
Day Four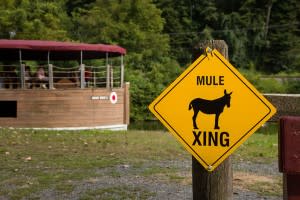 Today, you'll be on your way to Easton, where the Walking Tour of Easton takes you past the 1754 Bachmann Tavern, the oldest building in the city, visited by both George Washington and Ben Franklin. Other highlights of the tour include St. John's Church constructed in 1832 and the Jacob Nicholas House, one of the few other remaining Revolutionary War structures here. You can learn more of the story at the National Canal Museum in Hugh Moore Park.
Easton was the southern terminus of the Delaware and Lehigh Canal, which carried coal from the further reaches of northeastern Pennsylvania to points south in Bucks and Philadelphia. Hard, hot burning anthracite served as fuel for thousands of city homes and a massive industrial infrastructure surrounding Philadelphia that was once the nucleus of manufacturing in America. Be sure to take the mule-drawn Josiah White II Canal Boat to get a feel of what it was like to ply the canal in its heyday. When it's time for lunch, we recommend Sette Luna in Easton.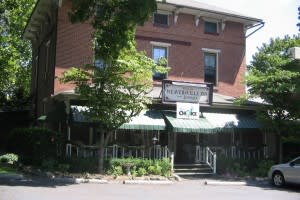 From there, you'll be taking the Delaware Valley Scenic Drive and the Delaware River Scenic Byway to more of the Lehigh Valley Wine Trail through the beautiful northern Lehigh Valley. Located on a stately hillside overlooking the Delaware River Valley, Franklin Hill Vineyards offers a wide variety of award-winning wines. Nestled on historic farm lands, Sorrenti's Cherry Valley Vineyards offers spumantes and champagnes along with award-winning regional wines. Northernmost Big Creek Vineyards and Winery in Kunkletown suggests that "raising a glass of wine allows reflection, conversation and rejuvenation of the palette." On the way back, we recommend dinner at Jessica's Tearoom at the Historic Weaverville Inn before returning to your accommodations for the evening.
Accommodations: Glasbern
Day Five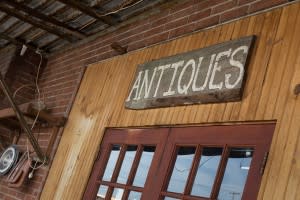 As you leave the region, it's off to browse through two massive antique locations, part history, part shopping. The Weil Antique Center, located in a large converted warehouse, features over 150 dealers displaying quality antiques ranging from furniture, clocks, china, vintage clothing and more. Merchants Square Mall is housed in a facility that produced military aircraft during World War II, originally built to produce the Sea Wolf for the U.S. Navy.
If you are so inclined as you leave for home, you can stop at Clover Hill Winery & Vineyard, producing unique Pennsylvania wines. A bit further south, you can view the remaining locations on the Lehigh County Log Cabin Trail near Coopersburg and Zionsville.
From there, we wish you a safe and pleasant journey home.
Relax, enjoy, savor and create all in a great weekend break.
Day One
Vynecrest Winery Tasting*
Lehigh Valley Covered Bridge Tour
Accommodations at Glasbern*
Day Two
Bethlehem Visitors Center
1810 Goundie House
Moravian Museum*
Kemerer Museum of Decorative Arts*
Lehigh Valley Covered Bridge Tour
Lehigh County Log Cabin Trail
Lehigh Valley Wine Trail
Blue Mountain Vineyard Tasting*
Josh Early Candies
Accommodations at Glasbern*
Day Three
Allentown Art Museum of the Lehigh Valley*
2-Hour Cooking Class at Landhaven*
2-Hour Art Class Studio B*
Amore Farms Tasting*
Accommodations at Glasbern*
Day Four
Walking Tour of Easton
National Canal Museum at Hugh Moore Park*
Josiah White II Canal Boat Tour*
Delaware Valley Scenic Drive
Delaware River Scenic Byway
Lehigh Valley Wine Trail
Franklin Hill Vineyards Tasting*
Sorrenti's Cherry Valley Tasting*
Big Creek Vineyards Tasting*
Accommodations at Glasbern*
Day Five
Weil Antique Center
Clover Hill Winery
Lehigh County Log Cabin Trail
Prices starting at: $529 per person, double occupancy * Included in package cost
Optional Inclusion / Add-Ons:
Packages available March through October, based on availability and seasonal rate fluctuations. Single, triple, quad and hotel only pricing available. Vouchers and complete directions provided for each trip. Air and car hire (trip cannot be completed without a car) booked by others. Package can be customized to suit client's needs.
To Book Call: 877-485-8747 or E-mail: quotes@americandrivingvacations.com