From young to old, tall to small, Dorney Park & Wildwater Kingdom has something for everyone in your group. Your group will experience two great parks for the price of one, featuring 200 acres of more than 100 rides and attractions for everyone.
If you have a bunch of thrill seekers in your group make certain to experience Steel Force where you'll reach a whopping 75mph as you and your group fly down a 205-foot drop.
Your group will find themselves dangling from the scorpion's tail seated face to face with friends so they can witness each other's terror. You are taken up a 138-foot lift hill and then released to soar at speeds reaching 55mph through three inversions – both forward and then backward. Plus so much more including Hydra, Possessed, Dominator, and Talon.
After experiencing the thrill rides, it's time to get your group soaked by the tremendous collection of splashes at Wildwater Kingdom. The park features plenty of drenching water slides, including Python Plummet. At the peak of the 65-foot-tall structure, you will step into the chambers of Python Plummet where, after an anxiety-filled countdown audible, the floor will suddenly drop out launching your group down a high-speed nearly vertical fall into a series of flat loops and s-curves in a translucent flume at a speed of 26 feet per second. The longest free-fall drop slide takes you on a nearly 450-foot long adrenaline rush.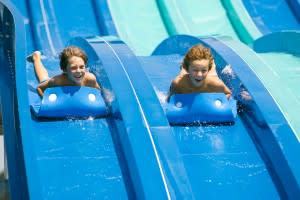 If this doesn't get your heart pumping The Constrictor is sure too as it sends you through an enclosed chute into a spine-tingling series of spirals. Four intense 360-degree loops across 449 feet of slide leads to one of the tightest, highest banking tube slide experiences in the park.
If you are competitive in nature you will want to race others in your group on Aqua Racer. Ready, set, slide! This unique, humpbacked slide will get the competition going as you race against others on a mat down a slippery slope. There is so much more to discover at Wildwater Kingdom including Aquablast, Cascade, Boa Blasters, and so much more that you might need to pack another swimsuit!
If you are looking for options for the youngest of ones in your group the parks can accommodate them as well. Be certain to visit, Dinosaurs Alive! Showcasing the most animatronic dinosaurs anywhere in the Mid-Atlantic, Dinosaurs Alive! features 32 life-sized animatronic dinosaurs on three wooded acres within the park grounds. The youngsters will experience the sights and sounds of all 32 dinosaurs, which are scientifically accurate and made to replicate nearly every feature of the prehistoric beasts.
There are six main "scenes" and nine exhibits throughout the 2,300-foot trail of realistic dinosaurs, with stories covering what they ate and where they lived, as well as some of their species' main characteristics. There are even interactive consoles that allow your group to guide the dinosaurs' movements.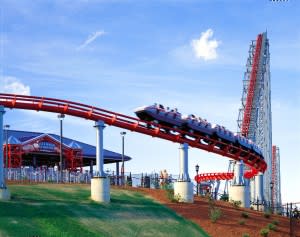 The highlight of Dinosaurs Alive! is the world's largest animatronic dinosaur, the Ruyang yellow River Dinosaur, a massive 72-foot-long and 30-foot-high model dinosaur. The kids will also enjoy the Dino Dig Site, where they can uncover prehistoric fossils, and of course, a gift shop that has all things dinosaur.
Plus, Planet SNOOPY is definitely sure to be a hit with the children in your group. This kids-only park (though adults are allowed to ride with the youngsters) includes a 40-foot-tall Flying Ace balloon Race, the Linus Launcher ride, Snoopy's Sky ride. Planet SNOOPY also features a PEANUTS™ Showplace amphitheater, where the PEANUTS™ gang holds performances and meet-and-greet sessions for the kids; a Snoopy Boutique souvenir shop, and much more.
No matter if those in your group consider themselves to be a "ride person" or only like amusement parks for the food, Dorney Park & Wildwater Kingdom really does have it all. The park is a blast for all ages; jam packed with rides of all levels of adventure.
For more information, please visit Dorney Park & Wildwater Kingdom's website at DorneyPark.com.