Craft beer lovers - rejoice! Three breweries have recently opened their doors in Lehigh Valley, each offering a unique setting and plenty of tasty beers. Scattered throughout the region, a stop at one of these new locations is a must during your next tour of the Lehigh Valley Ale Trail.
On the western side of the Valley, you'll find Yergey Brewing. Located just down the street from Funk Brewing Company (and in the same building as Triple Sun Spirits), Jim Yergey's beers are packed with big flavors. You may even recognize the Hoptileitious as it was crowned the winner of the "Brewer for a Day Festival," and brewed as the official beer of the 3rd annual Lehigh Valley Beer Week. In addition to the double IPA, you'll find an Imperial Stout, a Chocolate Chili American Porter, and a Belgian Dark Strong Ale available on tap, among many other varieties. You'll quickly notice the friendly quality of Jim Yergey and his staff, certain to have you planning your return visit.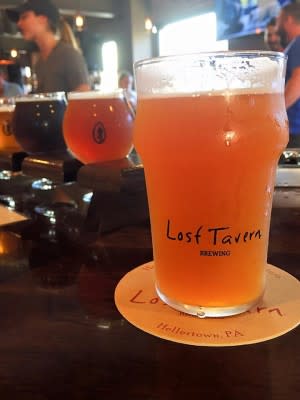 As you make your way east in Lehigh Valley, make a stop at Bonn Place Brewing on Bethlehem's South Side. Located just minutes from SteelStacks and Lehigh University, Bonn Place offers up some unique twists on their beverages. From bitters, to stouts, to pale ales and more - there's always something new popping up at Bonn Place. Be sure to visit often to check out the special cask ales that are available from time to time. You'll quickly feel at home in this cozy establishment!
And in Hellertown, don't miss Lost Tavern Brewing. Named to honor the 'lost tavern' of Hellertown, this brewery is steeped in local history. Be sure to give the Seeker IPA a try, as well as their saison and cider offerings. On weekends, you'll typically find live music being played and food trucks parked outside ready to satisfy your appetite. When the weather is warm, grab one of the outdoor tables to take in some fresh air.
Your best bet when visiting these new local spots? Grab a flight! Each brewery offers such unique beers, you'll definitely want to sample them all.