The summer is flying by, but there's still time to squeeze in a bit of fun before the kids head back to school. Plan a quick getaway to Lehigh Valley, Pennsylvania where you're sure to find plenty of fun for the whole family. This three day, two night itinerary includes thrills, chills, and more - all certain to leave you with lasting memories with your family.
Top-notch accommodations can be found throughout Lehigh Valley, whether you're looking for a traditional hotel, a family-friend inn, or even a campground. Take a look at all the lodging options the region has to offer.
Day One
Start your tour of Lehigh Valley in Easton, a charming city that borders the Delaware River. Take an early morning stroll along the Karl Stirner Art Trail, following along Bushkill Creek. You can opt to walk, jog, or even bike along this trail as you admire the sculptures along the way. After you've finished stretching your legs, head downtown to check out the brand-new Easton Public Market for a bite to eat. Here, you'll find unique food vendors offering everything from barbecue, to pizza, to crepes, and so much more. You'll also find an activity space for the little ones within the market.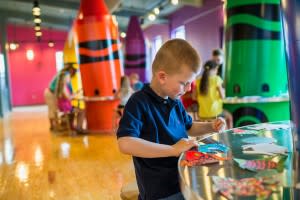 After you've fueled up, it's time to break out your creative side with a visit to the Crayola Experience. Kids (and kids at heart) will love exploring the four floors of interactive exhibits, including stations to make a crayon with your very own name on it! You can also get a glimpse of Big Blue, the world's largest crayon. And no visit is complete without stocking up on all your favorite colors at the store before you leave (we're big fans of the crayon inspired socks).
Your last stop for the first day of your tour is the National Canal Museum. Here, you can learn about the history of the canal and the major role it played throughout the region. You'll definitely want to save time to take a ride on the canal boat, the Josiah White II. The boat is pulled along the waterway by two mules, Hank and George, and it's the only mule-drawn canal boat in Pennsylvania.
Day Two
Next, we head west towards Bethlehem for a dose of history. Your first stop is the SteelStacks campus on the South Side of the city. This former site of the Bethlehem Steel plant is now home to a vibrant arts and cultural center. Take a walk along the Hoover Mason Trestle for an up-close view of the blast furnaces, or perhaps even catch a concert at the Levitt Pavilion. You'll find tons of free festivals and events happening here all year round, so be sure to consult their website for up-to-date information. As you make your way through this campus, you'll also find the brand-new National Museum of Industrial History. Here, you can get a glimpse of some of the big machinery that helped shape America.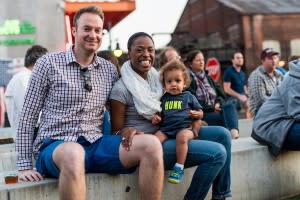 After a busy morning, grab a bite to eat along Main Street on Bethlehem's historic North Side, recognized as a National Historic Landmark District. Fegley's Bethlehem Brew Works offers some tasty options for the little ones, as well as a cold beverage for mom and dad. When you've wrapped up your meal, take a stroll along Main Street and pop into some of the various shops along the way. Be sure to grab a scoop of ice cream from the Shoppe at the Historic Hotel Bethlehem where they serve Penn State Creamery flavors - yum!
From here, you can opt for one of two paths. If you want to continue on your historical tour, check out the many offerings from Historic Bethlehem Museums & Sites. Participate in one of their guided walking tours, or head to one of the museums to check out the long history that the city of Bethlehem has to offer.
Day Three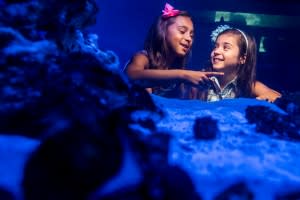 Your third and final day in Lehigh Valley is spent in Allentown, the "Queen City." Kick off your morning with a visit to the Allentown Art Museum of the Lehigh Valley. Here, you'll find a mixture of permanent collections as well as visiting exhibits. Take time to admire the galleries, and even spend some time in the family-friendly B. Braun Art Education Center, the Art Ways Interactive Family Gallery, and the Crayola Learning Center.
Next, make your way to the Da Vinci Science Center for some hands-on, educational fun. Check out the visiting exhibit, but also be sure to explore the permanent fixtures of the venue. Take a look at some sea creatures, learn about force and other physics theories, and plenty more. The kids will have so much fun, they won't even realize that they're learning along the way!
And no summertime visit would be complete without a visit to Dorney Park & Wildwater Kingdom. Here, you can enjoy two parks for one admission price. Cool off in the wave pool, or hit the water slides if you're looking for some screams. When you're ready to dry off, head to one of the many rollercoasters to get your dose of thrills. For the little ones, don't miss Planet Snoopy where you'll find plenty of kid-friendly rides. You may even bump into some familiar Peanuts characters!
After a fun-filled visit to Lehigh Valley, you'll be ready to start planning your return trip. Check out all there is to see and do in the region by exploring DiscoverLehighValley.com.