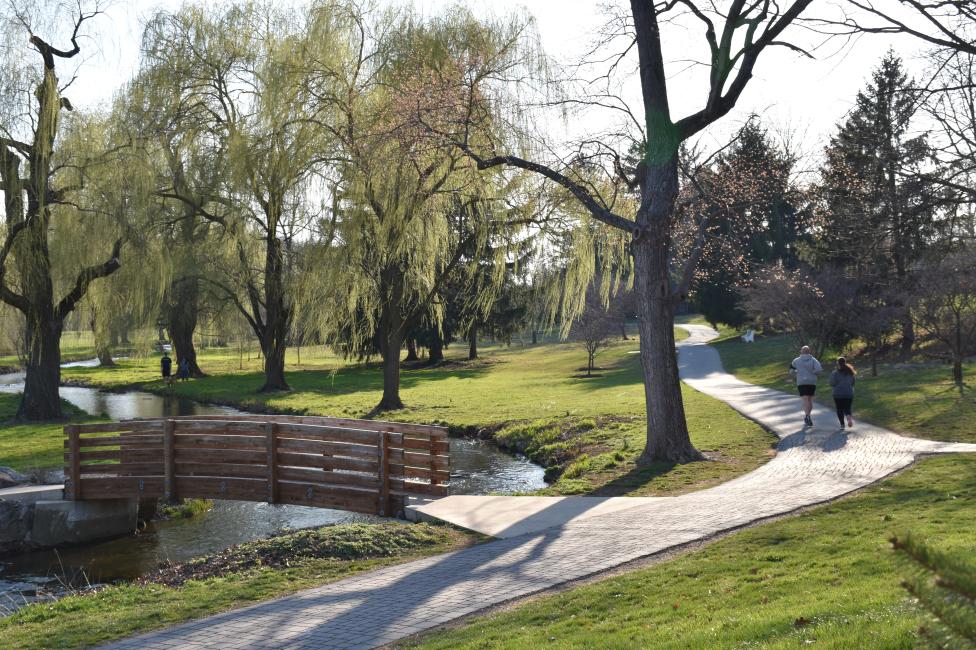 From St. Patrick's Day happenings to hockey and more, March is packed with events in Lehigh Valley. 
For a full list of happenings, check out our full calendar of events. 
**Please note, in light of event cancellations due to concerns regarding coronavirus, we strongly recommend reaching out to the event organizers to confirm the most up-to-date information.
---
March 1-7, 2020
Just in time celebrate the turning of the seasons, East Penn Chamber's Restaurant Week is right around the corner and bringing some of the best restaurants the community has to offer. Enjoy options at this year the participating businesses: GIO Italian Grill, Savory Grille, McDonald's of Emmaus, HOUSE and BARN, Sahara Mediterranean Cuisine, Smashburger, Foundation Tavern, East Penn Diner, Trapp Door, Volpes, Superior, The Shelby, and Don Juan Emmaus.
Vino in the Valley
**Please note, this event has been cancelled.
Weekends in March | Lehigh Valley Wine Trail Locations
The Vino in the Valley Passport Program along the Lehigh Valley Wine Trail involves purchasing a passport for $39 and then visiting each of the wineries during the four weekends in March. As you visit the eight member wineries, you will be offered delicious food and wine pairings (tasting sized) to sample and a complimentary wine tasting at each winery. Your passport will be stamped during each visit and ultimately entered into the Grand Prize Drawing once it has stamps from all eight wineries. Please note, passports for this event are sold out.
**Please note, these events have been cancelled.
March 6, 8, 11, 13, 14, 20, 21 | PPL Center
Cheer on the Lehigh Valley Phantoms, AHL affiliate of the Philadelphia Flyers, as they take on opponents on the ice inside Allentown's PPL Center. Phantoms games are family-friendly and offer plenty of entertainment off-ice as well.
Pig Day Celebration
March 6 | Coca-Cola Park
Get ready for the return of baseball season with mascot appearances, pork-centric foods, and more. This event also gives you the perfect chance to visit the Majestic Clubhouse Store to stock up the latest IronPigs gear for the new season. Additionally, National Pig Day marks the start of walk-up ticket sales. Ticket Windows will be open during the Pig Day celebration and on Saturday, March 7 from 10 a.m. - 2 p.m.
March 6-8 | Agri~Plex at the Allentown Fairgrounds
The exciting theme for the 2020 Show is: Backyard Magic, where the beautiful displays of flowers, shrubs, water features, and trees from the area's top Landscapers will be in full bloom. The refreshing fragrance, invigorating colors, textures, sights, and sounds of the Lehigh Valley Flower & Garden Show will make it feel like spring has sprung! These displays are more than just pretty. They offer solutions for your own landscaping dilemmas and will inspire you to make a colorful change to a landscape you love.
March 8 | Historic Bethlehem Museums & Sites
Join Historic Bethlehem Museums & Sites as they celebrate International Women's Day at the Single Sisters House. Tour the rarely opened building and learn about the 200+ year history of women living and working independently in Bethlehem. 
1752 Apothecary Walking Tour
**Please note, these events has been cancelled.
March 8, 14-15, 21-22, 28-29 | Historic Bethlehem Museums & Sites
How did the Moravians treat the infirm and ailing? What types of medical practices were established in early Bethlehem? To find out, join Historic Bethlehem Museums & Sites for a special guided tour of the historic Moravian Apothecary! Let a docent lead you through Bethlehem's rich historic Main Street, from the Visitor Center, to the 1752 Apothecary, and ending at the Moravian Museum of Bethlehem.
March 10 | PBS39
Ideas will flow as six speakers give thought-provoking talks on the theme "Always/Never; Sometimes/Maybe" in the seventh edition of the local program of the internationally famous Ted Talks. The theme explores the question "What are you willing to negotiate in our complex global society? Will you be better off for doing so?" 
**Please note, this event has been cancelled.
March 14 | West End of Allentown
The Parade Pub Crawl, celebrating 12 years in 2020, helps to support the Allentown St. Patrick's Parade to pay for marching units and bands. There are eight participating pubs: Jack Callaghan's Ale House, Tavern on Liberty Street, The Roost of Allentown, Volpe's Sports Bar, Shanty on 19th, Fairgrounds Hotel, Sleepy Cat Urban Winery, and Greg's West End Saloon.
March 14 & 28 | Behind the Easton Public Market
Don't let the cold weather stop you from eating fresh and local all winter long! Easton Farmers' Market hosts its Winter Market from 10 a.m. to noon on the second and fourth Saturdays, January-April. For the winter season, the Easton Farmers' Market temporarily relocates to Church Street behind Easton Public Market, before it returns in May to its home in Centre Square.
Lehigh Valley Auto Show
**Please note, the 2020 Lehigh Valley Auto Show has been postponed indefinitely.
March 19-22 | Lehigh University's Stabler Arena
The 2020 Lehigh Valley Auto Show celebrates the show's 23rd anniversary and the largest show ever with 145,000 square feet of new cars, trucks, SUVs, crossovers, vans and cycles in four venues on Lehigh University's Goodman Campus. This year's attractions include the Mario Andretti 1994 Lola T9400 Indy Car and Auto Show Marketplace with GEICO distracted driving simulator.
**Please note, this event has been postponed to May 2, 2020.
March 21 | Allentown Brew Works
Fegley's Brew Works brewers are proud to host the Cask Beer Festival with numerous one-of-a-kind cask creations and craft beer from over a dozen craft breweries. Tickets include live music and a St. Patrick's Day inspired food buffet.
Allentown St. Patrick's Day Parade
**Please note, this event has been cancelled.
March 22 | West End of Allentown
The 2020 Allentown St. Patrick's Parade, now in it 63rd year, returns for plenty of festive fun in Allentown's West End neighborhood! The parade will include the 2020 King and Queen riding in a white coach drawn by a team of Belgium horses, followed by Parade divisions each led by a pipe band.
**Please note, this event has been cancelled.
March 28 | SteelStacks
From side splitting comedy podcasts, to more serious takes on topics ranging from science and politics to life in the Lehigh Valley, the festival is designed to showcase the region's most entertaining and engaging webcasts, with complete podcast episodes being recorded in front of a live audience at SteelStacks throughout the day.
NCAA Division I Men's Ice Hockey Midwest Regional
**Please note, this event has been cancelled.
March 28-29 | PPL Center
The NCAA Division I Men's Ice Hockey Committee has selected PPL Center and Penn State University to host the NCAA Division I Men's Ice Hockey Allentown Regional for the third straight year on the weekend of March 28-29, 2020. PPL Center became the first arena in the state to host an NCAA Hockey Regional in March of 2018.
The Bach Choir of Bethlehem in Concert
**Please note, this event has been cancelled.
March 29 | First Presbyterian Church of Bethlehem
Don't miss another outstanding performance from the Bach Choir of Bethlehem. This event, held at the First Presbyterian Church of Bethlehem, will feature two unforgettable pieces of classical music: J.S. Bach's Easter Oratorio and Part Two of Handel's Messiah.   
National Geographic Live: Ocean Soul
**Please note, this event has been cancelled.
March 29 | Zoellner Arts Center
From the glacial waters of the North Atlantic to the balmy central Pacific, National Geographic photographer Brian Skerry shares the oceans' stories from his more than 10,000 hours underwater. Featuring images he captured while on assignment, Skerry offers a mesmerizing glimpse into the 'soul of the sea.'