Guest Author: Kari Skrip
Guests are coming over, friends are visiting from out-of- town, family will be staying for the weekend, or maybe (if you're lucky) you have a few quiet minutes to yourself to wrap presents… it's the holiday!
Finding the right wine for these occasions can be a daunting task, so let me help make your job a little easier.
Rule #1:
Drink local wines every chance you can. Lehigh Valley is blessed with award-winning wineries and a wide range of wine styles to suit anyone's taste. When you visit one of our local wineries you will also have the opportunity to sample their wines, and that is the best (and most fun) way to find exactly what you are looking for. And as an added bonus, buying local benefits our community in so many positive ways.
Rule #2: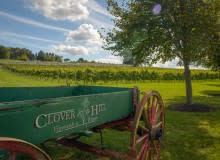 Try something new like a Chambourcin wine. Chambourcin is considered the grape of Lehigh Valley and expresses flavors of red cherry and berries, often exhibiting earthy undertones. Chambourcin is not an overly tannic red grape and offers brilliant colors ranging from bright purple to crimson red.
Clover Hill Vineyards & Winery produces two wines from the grape Chambourcin.
1) The 2013 Chambourcin is a completely dry, oak-aged. On the palette you, will experience fruity and berry flavors with a big American oak finish. The medium tannins make this wine a nice partner for roasted duck, turkey, or grilled salmon.
2) Turtle Rock Red is the unoaked version of the Chambourcin grape, and has just a hint of natural sweetness. This wine will showcase the fruitiness of the grape with fresh acidity in the finish. Serve this red wine slightly chilled, and it will be a perfect partner to your pizza or nice to sip on its own.
Rule #3:
Nothing beats a mulled wine on a cold, snowy night. Try this wonderful recipe to make your own mulled wine featuring our aforementioned Turtle Rock Red.
The Mulled Turtle
1 Bottle Clover Hill Turtle Rock Red Wine
2 Cups Orange Juice
1 Cup Fresh whole Cranberries (rinsed)
½ Cup Brown Sugar
1 Orange
1 Tablespoon whole Cloves
2 3-inch Cinnamon Sticks
2 Teaspoons of fresh Ginger (grated)
6 Peppercorns
½ Cup Brandy
Put wine, orange juice, cranberries and brown sugar in a 3-quart crock pot.  Stir to help the sugar dissolve.
Wash the orange thoroughly, cut it in half, use a toothpick and poke holes all over the orange peel, and then stick the cloves directly into the peel.
Add both halves of the clove-studded orange and the cinnamon sticks to the wine.
 Cook on low for 3 hours, or until the cranberries are tender.  You can cook it for an hour or two longer if you want, but do not let it get to a boil.
 Remove the orange and cinnamon sticks.  Let the orange cool a bit then squeeze any juices out of the orange halves into the wine mixture.
 Use the back of a spoon, press the cranberries against the side of the crock pot to pop them being sure to get all the juices out of them.
 Carefully pour the mulled wine through a fine mesh sieve into a clean bowl.
 Clean the crock pot and return the mulled wine back into the crock pot and stir in the brandy.  Taste and add additional sugar until it's just sweet enough for your liking.
 Ladle into mugs and garnish with either cinnamon stick or an orange slice or fresh cranberries threaded on a cocktail pick.
 Keep crock pot on warm setting.
Of course, if you are short on time, you can opt to try some of our holiday wines, or others found on the Lehigh Valley Wine Trail.
We offer "The Holiday." A sweet rose´ spiced with cinnamon, clove, and citrus. Simply pull the cork and place the entire bottle in a crock pot. Set on low to warm making sure to place a wet sponge underneath the bottle.
Rule #4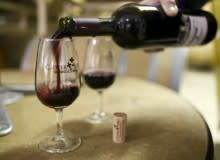 This is the most important. ENJOY! Let the wine enhance your meal and make your get together just a touch more enjoyable.  Pull the cork, toast to a happy holiday, and sip away.
Merry Christmas, Happy Holidays, and Cheers from me and everyone at Clover Hill Vineyards & Winery. Please enjoy responsibly.
Guest blogger, Kari Skrip, and her family are the proud owners of Clover Hill Vineyards & Winery. The winery is located at 9850 Newtown Rd., Breinigsville, PA 18031. They can be reached by calling 1-888-CLOVER HILL and are open for the holidays Monday - Saturday 9 a.m. - 6 p.m. and Sunday noon - 5 p.m.
If you have interest in learning a little more about wine, or perhaps know a wine lover that is interested in learning a little more about wine, they are offering beginner wine tasting classes, Saturday,  January 10 and  25 at 2 p.m. Tickets are required and can make a great holiday gift.