Wow, grab your friends! Get them online. Check this out! We have created a great man's weekend. Lots of activities and lots of beer to bond with your manfriends, laugh, trade stories and bring home memories that will last for decades. Make sure they're good friends. The kind that will go along with the myths, aren't going to tell the ladies the real stories, and want to have an all-around good time. The minute you all arrive in Lehigh Valley, you'll be active and involved, to set the tone for the rest of the weekend, to get out, let your hair down and relax.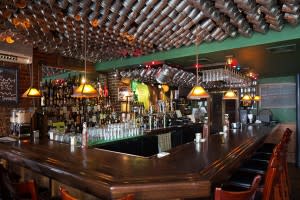 We know these trips include lots of beer, so your trip is going to include the ultimate beer experience, the Lehigh Valley Ale Trail. To launch your trip, you'll be touring the place that makes those wailing guitars played by today's rock musicians. Even though you will be tempted to linger trading stories at dinner, on the morning of day two, 18-holes of golf await at Green Pond Country Club, followed by an introduction to scuba diving. On day three, it's time to commune with nature hiking at Bushkill Falls before taking a canoe trip on the Delaware River.
Whew! And it's not over yet! On day four, you'll be up early to go fishing and then off to learn to fly! Yes, your first flight instruction will be followed by an air tour over the region. We are confident at the end of the trip, you will all be bringing home lasting memories and stories you will be trading every time you see each other!
Day One
Be sure you make it into Lehigh Valley early enough to kick off your trip with a tour of Martin Guitars. Not many people know that the guitars Willie Nelson, Bob Dylan and thousands of other musicians play are handmade right here in Lehigh Valley by C. F. Martin & Co. Their story began in 1811, when Christian Frederick learned his craft in Vienna, Austria from a renowned guitar maker. By 1833, he was in America and today's famous guitar works was born.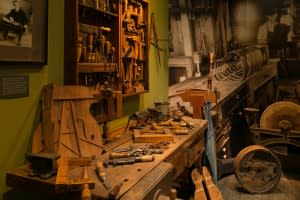 We've arranged for you to have the two-hour behind the scenes tour (the enhanced version of the factory tour) to witness firsthand the details and exquisite craftsmanship that goes into each Martin Guitar. While there, you'll also want to tour the museum with more than 200 rare, vintage instruments ranging from Stuffer and Ditson to pre-War and sustainable wood models. Musical giants such as Gene Autry, Johnny Cash, Elvis and John Mayer, who have played Martins, are honored in the museum. The Guitar Maker's Connection is housed in the original Martin factory in the heart of Nazareth.
This evening, we recommend dinner at the Bethlehem Brew Works, where they have been making beer classics for 15 years and giving them a modern twist using locally sourced ingredients. Relax, enjoy the company and get ready for the rest of your adventure.
Accommodations: Homewood Suites
Day Two
This morning it's off to play golf at Green Pond Country Club in Bethlehem, referred to locally as the "Public's Country Club" and highly rated by golfers. The Alex Findley designed course dates from the 1930s and has long been known for its challenging layout.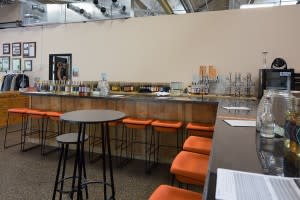 After lunch at Roma Ristorante & Bar, you'll be joining Lehigh Valley Dive Center for a two-hour "Discover Scuba" lesson at one of the large pools in the area. The Lehigh Valley Dive Center has introduced many people to a lifetime of diving enjoyment. That could be you!
After all that exercise and excitement, we recommend relaxing at The Colony Meadery, one of the more unique locations on the Lehigh Valley Ale Trail. With a mission to produce the boldest and most innovative meads in the world, you can enjoy some interesting tastes.
Accommodations: Homewood Suites
Day Three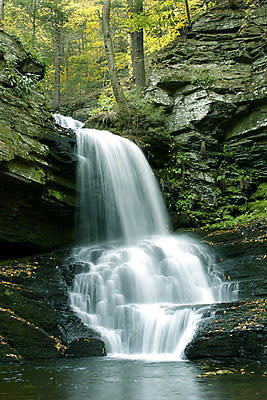 Nature will sparkle this morning as you hike at Bushkill Falls, which emerges from streams of crystal pure water bubbling up through primeval rock and heads toward the Delaware River. The crescendo at Bushkill, suddenly drops over a 100-foot cliff, into a deep pool banked with ferns, mosses and wild flowers. The cascade drops another 70 feet as it meanders through a long gorge strewn with massive boulders. Trails here also lead to Little Bushkill and Bridal Veil Falls, a misty combo of three lovely falls.
After experiencing Bushkill fully, it's time to experience the Delaware River up close and personal with Twin Rivers Tubing. If you are novices, there are locations with quiet calm water. If you are experienced, there are locations which can be challenging all summer long.
Traveling south after coming in off the water, we recommend dinner at Porters' Pub in Easton, one of the most fun locations on the Lehigh Valley Ale Trail. If you drink enough there, frequently enough, you get your own mug hanging from the ceiling to use every time you come in. At this point, the entire ceiling is covered with mugs. A great way to end your day before returning to your accommodations.
Accommodations: Homewood Suites
Day Four
And just when you thought you couldn't have any more great experiences on this trip, it's up and at 'em early, since fishing is best done in the early morning or at dusk. You'll be meeting Pocono Fishing Adventures at the appointed spot for their three-hour early morning trip. Or, if you really think you're going to have enjoyed Porters' Pub too much, we can schedule for 9 a.m. Pocono Fishing adventure provides the boat, rods and bait.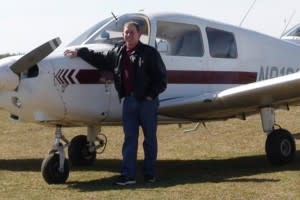 When you return and clean up, one more adventure, an air tour over Lehigh Valley with Gateway Aviation, awaits. Prior to going up, you're going to have your first flight lesson! High above the valley, you can see things that are difficult to imagine from the ground. You will be amazed by the size and scope of the Allentown rail yards, which witness millions of tons of freight pass through on a regular basis. From overhead, you can also see the full scope of the Bethlehem Steel complex, which stretches over four miles long on the river bank and more. And of course, you'll have a great birds' eye view of the Lehigh River as it winds its way through our beautiful valley.
From there, we wish you a safe and pleasant journey home.
The Ultimate Boys Nite(s) Out
Fishing, flying, hiking, and diving! What a trip!
Package includes:
Day One
Two-Hour Behind the Scenes Martin Guitar Factory Tour*
Martin Guitar Museum*
Guitarmaker's Connection
Lehigh Valley Ale Trail
Accommodations at Homewood Suites*
Day Two
18-Holes of Golf at Green Pond County Club*
Scuba Diving Lesson at Lehigh Valley Dive Center*
Accommodations at Homewood Suites*
Day Three
Hiking at Bushkill Falls*
Canoe Trip with Twin Rivers Tubing
Accommodations at Homewood Suites*
Day Four
Pocono Fishing Adventures 3 Hours Fishing Trip*
Gateway Aviation Flight Lesson*
Gateway Aviation Air Tour over the Lehigh Valley*
Prices starting at:  $869 per person, double occupancy * Included in package cost
Packages available March through October, based on availability and seasonal rate fluctuations. Single, triple, quad and hotel only pricing available. Vouchers and complete directions provided for each trip. Air and car hire (trip cannot be completed without a car) booked by others. Package can be customized to suit client's needs.
To Book Call: 877-485-8747 or E-mail: quotes@americandrivingvacations.com