The Lehigh Valley IronPigs open their 2015 season on April 9 and, like pretty much every opening season before, there are fun new foods and park changes to look forward to.
In the past, the IronPigs have debuted new seating sections called the  "Hot Corner" and "Bacon Strip" in 2013 and the club introduced the Red Robin Tiki Terrace & Oasis in 2012. They also introduced urinal games in the men's bathrooms to much fanfare, and our own video demonstration,in 2013 as well.
This year? Say hello to the Pig Pen. And, no, it's not a place you get to drop your kids off for awhile. In fact, it's designed for groups of 20 or more, so it's perfect for company outings or family reunions.
The "Pig Pen" -- a revolutionary new seating area that puts fans directly in front of the players in the left field bullpens and just inches away from the on-field action -- will debut in time for the 2015 season, the IronPigs announced during a press conference at Coca-Cola Park today. The advent of the "Pig Pen", which is currently on sale now to groups of 20 or more for any of the IronPigs' 72 home games in 2015, will result in cozier field dimensions as the left field wall itself will be moved approximately 13 feet closer to home plate and be lowered to just six feet in height to allow for breathtaking sightlines and access.

The 13,000 square-foot "Pig Pen" area will be located on the field level and in shockingly close proximity to the bullpens and the field of play while featuring 78 exclusive seats across two rows, providing an intimate viewing experience that was previously only enjoyed by the pitchers and catchers in the bullpen. The first row of seating features 46 extra-wide fixed seats while the second row includes 32 bar stool seats. While savoring this truly unique player's perspective, fans can also enjoy in-seat food and beverage service and take advantage of a completely distinct and mouth-watering menu that's unique for "Pig Pen" ticket holders. Additional amenities include wide drink rail counters to allow for a more comfortable viewing and dining experience. SOURCE
Sounds great, right?
Do you know what sounds even greater? The new food.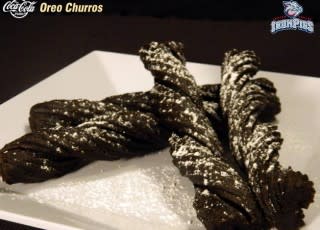 The Lehigh Valley IronPigs posted photos on social media throughout the offseason this year in an almost unfairly mouth watering-marketing campaign. Some of the new foods include Jamaican beef patties, buffalo chicken bites and fries, a BLT sandwich and hot dog, Oreo churros (yep, Oreo churros), and a two-foot-long hot dog.
Please keep in mind that Coca-Cola Park has multiple healthy and gluten free options for those who aren't exactly into eating Oreo churros for seven innings. If you don't try them, though, we'll be sure to let you know how they taste!
The new changes are just a precursor to what will undoubtedly prove to be another successful and fun 2015 campaign in Allentown. The Lehigh Valley IronPigs have routinely been at the top of AAA baseball attendance throughout the country and probably the only other cheaper option for a similar family sporting outing would be at the Lehigh Valley Preferred Cycling Center in Trexlertown.
So, get ready for home runs, hot dogs, and, of course, Ferrous and FeFe.
We'll see you at the ball game!