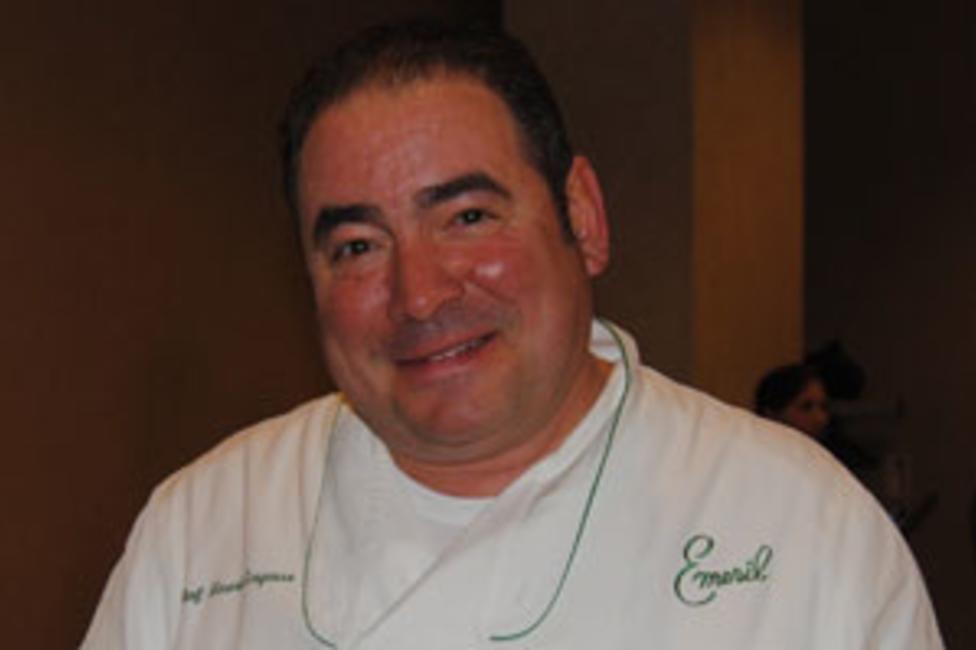 Q: What do you get when you put nearly 50 wine varieties, six beer vendors, a live band and about 30 restaurants in one large room?
A: An awesome Lehigh Valley Food & Wine Festival!
This past Friday and Saturday I spent my afternoons at Sands® Casino Resort Bethlehem and the Sands® Event Center tasting my way through the 4th Annual Lehigh Valley Food & Wine Festival. It was the first time I have been, and I know for sure that this will now become an annual must for me.
My festivities started on Friday afternoon at a cooking demonstration done by Emeril Lagasse. Students from Northampton Community College's culinary arts program were invited to attend and three of them were the final contestants who were chosen to win a coveted internship in New Orleans alongside chefs from three of Emeril Lagasse's restaurants. Over the last three years, this event has raised almost $450,000 for the Northampton Community College Foundation including a portion that goes to the culinary program.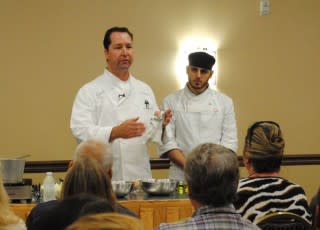 On Saturday we arrived around 12:30 p.m. I looked at Dave, who thought it was too early to drink, and said, "What? We are at a food & wine festival, suck it up!" And it was all good from that point forward. We got our glasses and peered into the Event Center, which was jam-packed. We opted to ease into the day and skipped right to the cooking demonstration (a $25 special ticket was required) which was being done by Chef Chris Wilson, one of Emeril's chefs from New Orleans. He made some fabulous food that made the entire room smell great and activated our taste buds. From there we were off and running.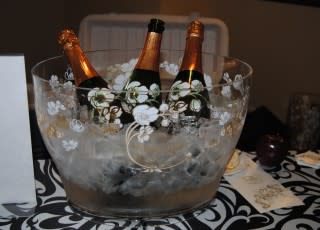 Our next stop was the Champagne Tasting Room (a $25 special ticket was required). We sipped on everything from your classic New Year's Eve-style Brut to strawberry flavored champagnes and one of my favorites, the 2004 Perrier Jouët!
Next, we moved into the Event Center to feast on all the different foods, wine and beer samples being offered. (Note: Your $75 tickets got you into the venue, a wine glass, all the food you could eat, and 10 beverage tastings of your choice.) Once we had our first bite of food, the turkey burger from Burgers and More by Emeril, we were hooked. It was outstanding! One of the moistest turkey burgers we have ever had topped with Muenster cheese, lettuce, tomato and kicked up slaw. Some of the other restaurants included: blue grilhouse|wine bar, Carnegie Deli, Cosmopolitan, Edge, Emeril's Chop House and Italian Table, Melt, Sagra Bistro, Tapas on Main and Yianni's Taverna among others. Again, each offered superb choices and we left feeling very full and happy!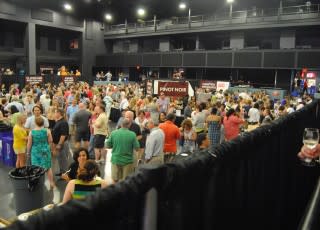 From the main room we moved into the Spirits Tasting Room. I am not one to drink scotch or whiskey, but they "twisted my arm" into trying a Chivas Regal cocktail made from 12 yr. aged scotch, ginger ale and a piece of lime. I think this may now be my new favorite drink. It was so smooth and I don't think you would get filled up on this drink since you just sip on it. This room served multiple different brands from Chivas to Jameson.
We couldn't leave without checking out the outdoor cigar tasting area. There was a cigar vendor offering the finest of stogies. Personally, I'm not one for the smell, but there were plenty of women and men enjoying all that was available. Also, while in the Event Center, we were entertained by the sounds of a local band. There were also raffle tickets being sold for a 2013 MINI Cooper Roadster for $20. I missed out on Friday night's Burger and Beer Bash, but you can read about it here.
I do believe this is my new favorite Lehigh Valley event and I will anxiously await next year. I wish I could have attended Sunday as well! Have you ever been to a food & wine festival?