This past February brought us the first annual Lehigh Valley Beer Week.  With the help of local breweries, pubs, and restaurants, beer enthusiasts were able to have a taste of tons of different brews through various specials including happy hours, beer dinners, and flight nights.  We can't wait for round two this February, but we've also got some great options for you in the meantime!
We're all familiar with the Lehigh Valley Wine Trail for those who love a local tasty wine, but what about those of us who prefer beer?
Meet our list of the best local microbrew bars, or what we like to call The Lehigh Valley Ale Trail.  We hope to continue to expand the trail and have more information on it in the future. Whether you're looking for a brewery tour or tasting, a bar to make yourself comfortable at, or a distributor to stock up on all your favorites- we've got you covered.
Both the Allentown and Bethlehem BrewWorks locations lead Lehigh Valley in microbrews (especially Space Monkey) but what about the others throughout the area?
Our list is pretty comprehensive, however,  I've highlighted my five favorite places as well. Let me know what's missing from the list so far, and stay tuned to see how the Ale Trail develops in the future!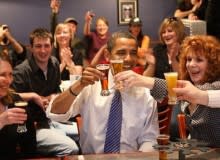 5. The Tavern on Liberty (Allentown)- You'll find a fantastic, ever-changing tap list here, in addition to the hundreds of bottles that they have available as well.  The Tavern is known to host tons of great events including special guests and flight nights.  If you're up for a challenge, start a list and see if you can try all the beers to get your name on the wall!
4. Maxim's 22 (Easton)- In this French-style restaurant, you'll find 22 different beers on tap, the influence for the name of the restaurant. Rather than just swinging in for a drink or two, stay for dinner! There are some great dishes on their menu that you won't want to miss.
3. The Trapp Door (Emmaus)- Spend a bit of time in the cozy atmosphere of the Trapp Door.  You'll often find some quiet, live music here to compliment your beer tastings.  Their food is top-notch (I recommend the pierogies- delicious!) and it's a nice break away from the hustle and bustle of some more crowded bars.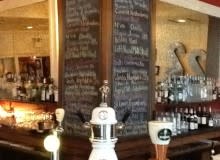 2. J.P. MacGrady's (Bethlehem)- In addition to boasting a pretty fantastic draft list, these guys have some of the best wings around.  You'll find the original 'sweet & sweaty' sauce here, which has been used as a model for many other restaurants in the area.  Did I mention they also have a popcorn machine?
1. Weyerbacher Brewery (Easton)- While you might have sampled some Weyerbacher beers at local establishments, have you ever been out to the brewery? They have newly expanded hours in their tasting room/store, which an expanded tap selection as well. Come out and see where it all happens!
So there you have a few of my favorite spots to have a taste of all different brews, but this is certainly just the tip of the iceberg! Check out our full list of recommendations, and let us know which ones we are missing!