Now in its 65th year, the Kutztown Folk Festival is the oldest continuously operated folklife festival in America, drawing visitors from all over the world while providing insight and understanding of the traditions and culture of the Pennsylvania Dutch from June 28 to July 6 at the Kutztown Fairgrounds
With activities and entertainment for the entire family, this nine-day festival, hailed by the Washington Post as a "Must See" festival and named one of America's Top Celebrations by USA Today, has something for everyone.
Shop Til You Drop
If shopping is what you enjoy, don't miss over 200 early American folk artisans demonstrating their skills in fine furniture, miniatures, pottery, clothing, musical instruments, hand-painted art, iron ornaments, weavings, brooms, cut paper art, beeswax candles and more.
Fun For All Ages
The younger crowd can find all of the interactive fun they can handle. HexExpress (a unique train made of 55-gallon oil drums), live entertainment, puppet barnyard theater, sing-alongs, a hay maze, make and take crafts, and a petting zoo will all have kids asking to come back to the festival!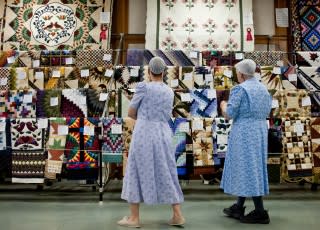 Quilter's Corner
Handmade quilts have their own history which has evolved from the 19th century functional use of converting scrap material into simple coverings, to the creation of the elegant works of art seen today. Now the largest quilt sale in the nation, you can shop over 2500 beautiful handmade quilts by regional quilters.
Get Active
Hands-on experiences are what make the Kutztown Folk Festival unique. Make your own quilt square at the annual visitors quilt, take part in a quilting bee, shuck corn, bale hay, and learn about traditional farming methods.
Good Eats
Once you've worked up an appetite, take your pick of the best Pennsylvania Dutch food and treats to be had! Stuff yourself silly with an authentic ox roast; a Pennsylvania Dutch all-you-can-eat dinner buffet; a 19th-century bread oven, one of the oldest in Pennsylvania, where bread is baked daily; and other festival favorites including sausage, pot pie, corn fritters, funnel cake, shoo-fly pie, apple dumplings, and more.
This year's Kutztown Folk Festival will operate with newly expanded hours from 10 a.m. to 8 p.m.* from June 28 to July 6 at the Kutztown Fairgrounds. In celebration of the extended hours, a new half-price Twilight ticket is being offered from 5 to 8 p.m.
*The festival will close at 5 p.m. on July 6.
A Chance to Win
Enter To Win a VIP Experience at the Kutztown Folk Festival. Interested parties can enter by "liking" the Kutztown Folk Festival Facebook page and submitting an entry on the Sweepstakes Application Tab or by clicking here.
The VIP Package includes: * 4 All-day tickets for the Festival * 1 VIP Parking Pass * Hoedown Stage and Main Stage VIP seating * 1 T-shirt per VIP group winner (Winner will pick up shirt at the Festival) * 1 Hands-on craftsman voucher (Tammy Zettlemoyer - Redware Pottery) * Food Vouchers
The contest runs through June 22 and five winners will be selected and notified on June 23.
This year's Festival will operate with newly expanded hours from 10 a.m.-8 p.m. from June 28-July 6, 2014 and offer half-price tickets after 5 p.m.
Save $3 off admission by visiting KutztownFestival.com for a printable coupon
[gallery ids="19308,19327,19325,19309,19310,19326"]