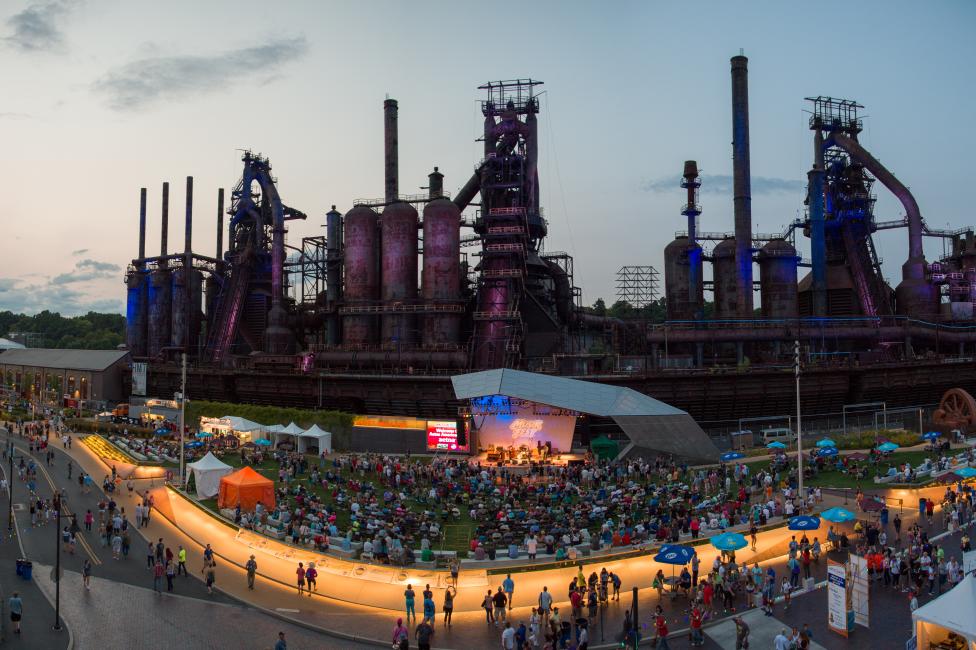 Each summer, Bethlehem comes alive as the tradition of Musikfest returns to the city. The festival kicks off the first Friday of August and continues for 10 consecutive days packed with music, food, and plenty of fun for all ages. Your first time attending the 'Fest can sometimes be a bit overwhelming. We've compiled some tips for a happy Musikfest experience, including must-see artists, eats, guides to parking, and even where to take a potty break. 
The Basics
Musikfest is recognized as one of the country's largest free, non-gated music festivals with nearly 400 performances happening across 16 stages (referred to as 'platzes' to pay homage to the city's Germanic heritage). This year's festival runs August 3 - 12, with a special preview night on Thursday, August 2.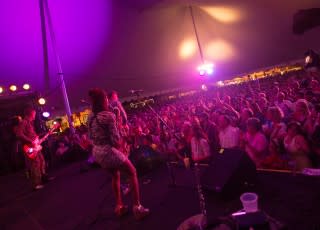 While the majority of these events are free, you will find one ticketed, headlining show during each night of the 'Fest. Headliners for 2018 include Dierks Bentley, Gary Clark Jr., Kesha, Daughtry, and Styx & Joan Jett, among others. Check out details on headlining acts here.
But don't discount the free performances! Visitors will find stages brimming with local artists, plus nationally-recognized acts including The Original Wailers, The Funky Dawgz Brass Band, Marc Broussard, and more. And, Musikfest favorites including the Amish Outlaws, Igor & the Red Elvises, Rubix Kube, Flowers for Taco, and the Aardvarks are back for more crowd-pleasing performances that are sure to be packed with your favorite tunes. To get a preview of artists playing the free stages in 2018, be sure to tune into this curated Spotify playlist. 
Beyond the Music
Music isn't the only form of entertainment you'll find -- throughout the festival, be sure to stop and see various street performers delighting crowds young & old. 
'Festers will want to get their cameras ready again this year - Architects of Air is an Instagrammer's paradise! This massive, inflatable art installation invites guests to wander the tunnels awash with bright colors. From winding paths to 30-foot tall domes, you're sure to be amazed by what's inside. 
Getting There
Now for the logistics. Traveling overnight to visit Musikfest? Consider one of these packages that will make planning your trip a breeze. Each offer includes overnight accommodations at a nearby hotel or inn, plus a Musikfest mug, and food & beverage tickets. 
If you're driving to the festival, don't waste time searching for street parking. Instead, head right for one of the available satellite lots where you can park for free. The ride on the shuttle is $4 per adult (13 and over); $2 per child ages 6-12 when accompanied by a fare paying adult; and free for children 5 and under. In addition to your ride to the festival grounds, this price includes same-day access to the North South Transfer Shuttles. 
Another solid option is to check out availability within the two parking garages on the city's North Side - Walnut Street and North Street. Though there is a fee to park in these garages, you'll be steps away from the action. 
Getting Around
If you're walking to the 'Fest, but want to hitch a ride from North to South Sides, that's easy too! Make your way to 'Shuttleplatz' where you can catch the North / South Transfer for just $3. 
When nature calls, you'll find plenty of facilities available for use. On the South Side, take advantage of indoor bathrooms at the Visitors Center, as well as within the ArtsQuest Center at SteelStacks. On the North Side, consider using the bathrooms near Volksplatz in the Colonial Industrial Quarter for some slightly less trafficked resources. For a full map of available restrooms, click here. 
Eats & More
With all the walking and dancing that comes along with enjoying Musikfest, you're sure to have worked up an appetite. Luckily, there are endless amounts of food and beverage options to savor. Rather than taking cash directly, food and beverage vendors accept Musikfest tickets that can be purchased by cash or card throughout the festival grounds.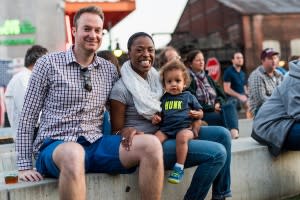 At Musikfest, you'll find everything from your traditional fair favorites (deep fried Oreos, anyone?) to more unique eats, including the festival's first all-vegan vendor. Classic choices include Aw Shucks Roasted Corn, Take a Taco, Island Noodles, Kabobs, and ice cream from the Bethlehem Dairy Store.
This year, guests can taste their way around the 'Fest as part of the Hungry Games. Hungry attendees can enjoy signature dishes and vote on their favorite be to named champion. 
Be sure to pick up an iconic Musikfest Mug to keep your beverage of choice nice and cold - plus, you'll help the crews cut down on waste. Mugs are reusable year to year, but it's never too early to start your collection! If you're craving craft cocktails, be sure to check out the all-new craft cocktail bar featuring tasty drinks made with local products from Social Still, Eight Oaks Craft Distillers, Xplorer Spirits, and Franklin Hill Vineyards.
To stay up-to-date on all the latest happenings at Musikfest, including any special announcements, consider downloading the app. You can even custom create your own itinerary to be sure you won't miss your favorite band. 
Questions about anything Musikfest-related? Sound off in the comments below. We'll see you at the 'Fest!