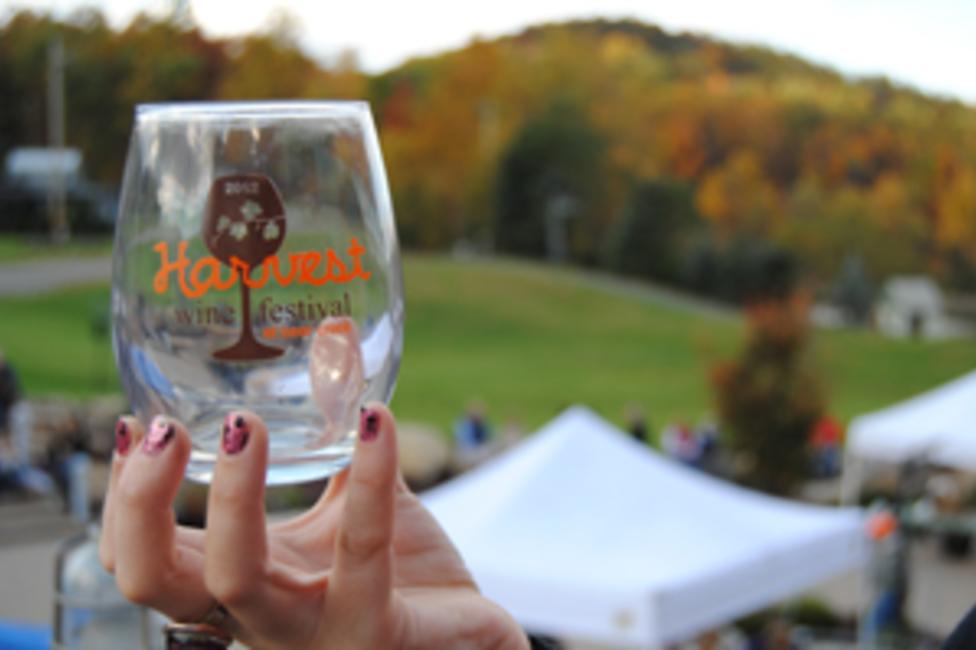 The sliding glass door on our fifth story room at the slopeslide Hotel at Bear Creek Mountain Resort opened to the mountain, pool and guests enjoying the 2012 Harvest Wine Festival. A few months too soon to watch the skiiers whizzing by, we enjoyed the crisp autumn air breezing in before heading down to the main lodge; and the wine.
While Bear Creek is well known for its high-end skiing facilities, that doesn't mean the resort hibernates during the fall months. On the contrary, the 2012 Harvest Wine Festival at the Macungie resort was vibrant and alive with not only local and regional wineries, but also local vendors selling items ranging from stinging nettle cheese (no lie) to garlic vinegar.Scores of attendees sampled and purchased wine from the more than 10 vineyards on hand and eased out onto the multi-leveled wooden decks; sipping with the changing leaves on the forest's trees providing the backdrop.
Our favorite wine of the day was by A'Dello Winery, located in Perkiomenville. Try their Boss Man's Blueberry wine and thank me later. To say Bear Creek Mountain Resort's setting is beautiful is a pretty vast understatement. The hotel's main lobby and the Grille at Bear Creek have a warm, log cabin feel to them, as do the rooms, what with their wide, open spaces and incredible views. After sampling our fill of wines, including a special taste of jalapeno wine from Cardinal Hollow Wines out of North Wales, PA (it sure was hot), we headed back to change and relax for the evening.
The autumn air stayed warm enough that we were able to visit both the outdoor and indoor pool and hot tubs, because, if you don't visit the hotel hot tub, you might as well not have stayed the night at all. After eating at the Grille, which included a fireplace and low rise wooden tables that reminded us both of childhood visits to relatives' cabins, we headed back to our room.
After a long day of sampling, eating, swimming and simply enjoying the view (and making promises to come back during the winter months) we had one last look out the sliding glass door before we shut it and headed to sleep. Staying at Bear Creek never once felt as if we were staying at a hotel. We were welcomed by staff and treated very well, especially when we needed a corkscrew! The lobbies and lounges were great places to sit for a bit and, well, I think I've mentioned the view at least once, haven't I?
Fall is a great time to visit Bear Creek Mountain Resort, but, I bet every other season is, too. Don't miss the chance to experience a warm, friendly and relaxing weekend.