The revitalization of Allentown isn't completely about the entertainment of PPL Center. It's also about food and The Hamilton Kitchen & Bar, which happens to be across from PPL Center, isn't just about food, it's about good food, and drink, too.
The last Friday in June was a preview night reception for tasting the food, experiencing the atmosphere and having a drink or two.
First off, the food was amazing! The chicken and biscuits, the pulled pork and polenta, the shrimp and grits, the pitas and flat breads, pork-belly, crackilin, the tuna tartare, it was all really good. And to further prove how good it was, there are no pictures of the food, because it was all so good, you wanted to try more and for that I'm sorry, because the presentation of those small samplings was something worth seeing.
The drinks were good and the featured two, a Dark & Stormy (house-spiced Gosling Rum, ginger beer and lime) and Mississippi Punch (bourbon rum, cognac, black tea, lemon and nutmeg) were wonderful. The drinks, however, were almost third place to the food, and the atmosphere.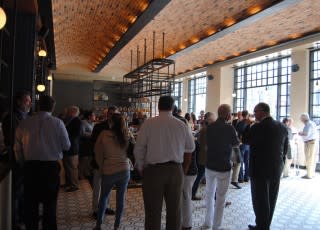 The large windows and all of the natural light they let in and the view they have of PPL Center, coupled with the contrast of the dark chairs and booths with the natural solid wood tables, and the lighting (not too little and not too much) that is accentuated with glass divides, makes Hamilton Kitchen an incredible place merely to take in ambiance.
Did I sit down and eat a full meal? No, but I intend to and you should too. The preview night reception was just a taste and I want more. Plus, this is beginning of what will be a wave of more restaurant openings in downtown Allentown and it will be exciting to see them all open up and give workers in downtown Allentown, as well as PPL Center patrons, plenty of options for breakfast, lunch, dinner and drinks.
The social occasions for downtown Allentown are about to go up in number and The Hamilton Kitchen & Bar is a great start.
[gallery ids="19568,19566,19567"]