With another successful Musikfest behind us, it's time to look ahead to the 162nd Great Allentown Fair, August 26 - September 1.
This year's Fair is sure to be one to remember as Mötley Crüe takes over the Grandstand stage on August 27 on their farewell tour. Other acts include Pitbull, Tim McGraw and others. And who doesn't love the demolition derby taking place on the Fair's last night?
The entertainment is only a part of the festivities. The midway is filled with rides for the kids and food for everyone. Make certain to grab a Vince's cheesesteak, a taco from Take A Taco, and show your support of the youngsters and check out a variety of great items at Mountainville Little League's stand.
[caption id="attachment_20335" align="alignright" width="220"]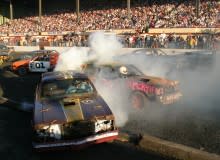 The Derby[/caption]
For a century and a half the Fair has been steeped in tradition of rich agricultural roots while highly emphasizing education for the non-agrarian public. This definitely holds true still today. So, once you've satisfied your hunger head over to Agri~Plex for a variety of interesting happening from culinary contests to cooking demonstration and everything in between. Be certain to visit the petting zoo to the left of Agri~Plex where you can get up close and personal with the livestock. This is absolutely a huge hit with children.
[caption id="attachment_20331" align="alignright" width="220"]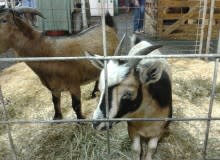 Petting Zoo[/caption]
Hours and admission for the Fair is as follows:
August 26, 4 - 11 p.m.
August 27 - 31, noon - 11 p.m.
September 1, noon to 10 p.m.
Regular admission $8 (Children 12 and under are free)
Seniors (65+ with ID) $4 after 2 p.m. on Wednesday, August 27
On Tuesday, August 26 admission is just $3 or just a $1 with the Fair's "a Buck and a Can" promotion. Just bring a food item to donate to Second Harvest Food Bank.
Also, everyone gets in free from Noon - 2 p.m. on Wednesday through Friday, August 27 – 29 during the Fair's "Weekdays Under the Wire" promotion.
So come out and support the Great Allentown Fair and experience what makes it so unique and interesting. With great prices, special promotions, excellent entertainment, and all your favorite eats, it's sure to be a hit with the whole family. We'll see you there on Tuesday, August 26 as our Discover Lehigh Valley street team will be handing out t-shirts and I ♥ Lehigh Valley neon green wristbands that offer you the chance to win some great prizes.
[gallery ids="20334,20337,20331,20335"]